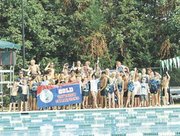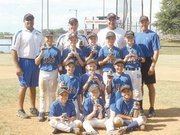 <b>Marlins Strike Gold</b>
The 2009 Colonial Swim League dual meet season drew to a close with the ManorGate Marlins earning the title of Gold Division champions as they battled the AKC Holy Mackerels for the crown. Furthermore, the U-8 and 15-18 girls' both reigned as champs across the Gold Division in their respective age groups. The U-8 girls' medley relay team was joined by U-8 boys' medley relay team as both finished third among 21 teams at the league's annual Relay Carnival. At the individual level, the Marlins knocked off records from past seasons and even records that were set earlier this season. The divisional championships were held at ManorGate's pool this year -- a successful spectacle in itself -- and the ribbons and records were flowing for the Marlins, with at least 10 swimmers achieving ranks to swim at the Individual All-Star meet on Aug. 1.
<b>Punter Honored</b>
A year after averaging 41.5 yards per punt, which was good enough for second in the Colonial Athletic Association and 16th in the country, Westfield graduate David Miller, now a redshirt junior on the football team at William & Mary, was picked as a preseason first-team All-CAA selection. In addition to his yards-per-punt average, Miller landed 12 of his punts inside the opponent's 20-yard line, earning third team All-Conference honors. At Westfield, the Centreville native connected on 20 of his 26 career field goal attempts while also booting a school record 48-yarder. And during his senior season, 37 of Miller's 48 kickoffs went for touchbacks.
<b>Free Golf</b>
Westfields Golf Club will host the second annual International Family Golf Festival on Sunday, Aug. 23. The festival, which encourages parents and families to learn and play golf together, invites participants to enjoy an afternoon of free golf instruction, interactive games, family programs and a chance to win a variety of prizes. The schedule of events includes a complimentary lunch from 1-2 p.m., instructional clinics from 2-4 p.m., interactive games from 4-5 p.m. and an evening golf outing with a cost of $39 for adults. Those 15 years of age and younger, if accompanied by an adult, can play for free. Registration is required and space is limited to the first 14 families of four or 56 guests that sign up. For more information, call 703-631-3300.
<b>SYA Registration</b>
Registration is now open for fall Southwestern Youth Association sports. Sign up now as some sports will be charging late fees or having to put players on a waiting list soon. Registration is available for the following sports: Babe Ruth baseball, softball, baseball and T-ball, as well as soccer, football, field hockey, track and field, cheerleading and lacrosse. Visit the SYA Web site at www.syasports.org for more information or to register.