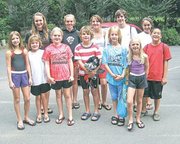 <b>Pirates Well Represented</b>
Thirteen swimmers represented the Poplar Tree Pirates at the Northern Virginia Swim League's Individual All-Star meet on Saturday, Aug. 1 at Broyhill Crest (Annandale), and Lauren Hensley set a team record in the 11-12-year-old girls' backstroke. Swimming the freestyle events were Haley Alderman (U-8 girls', fifth), Steven Longino (9-10 boys', 15th) and David Stewart (13-14 boys', 16th); swimming the backstroke events were Alderman (U-8 girls', fifth), Julia Young (U-10 girls', 10th), Jonathan Wen (9-10 boys', seventh), Hensley (third) and Elizabeth Hall (15-18 girls', third); swimming the breaststroke events were Mary Kominski (U-8 girls', eighth) and Nicole Re (U-8 girls', 13th); swimming the butterfly events were Nick David (U-8 boys', eighth), Lauren Young (U-8 girls' 10th) and Hall (second); swimming the individual medley events were Wen (U-10 boys', 15th), Hensley (third), Stewart (14th) and Katie Dingman (13-14 girls', 16th).
<b>Punter Honored</b>
A year after averaging 41.5 yards per punt, which was good enough for second in the Colonial Athletic Association and 16th in the country, Westfield graduate David Miller, now a redshirt junior on the football team at William & Mary, was picked as a preseason first-team All-CAA selection. In addition to his yards-per-punt average, Miller landed 12 of his punts inside the opponent's 20-yard line, earning third team All-Conference honors. At Westfield, the Centreville native connected on 20 of his 26 career field goal attempts while also booting a school record 48-yarder. And during his senior season, 37 of Miller's 48 kickoffs went for touchbacks.
<b>Free Golf</b>
Westfields Golf Club will host the second annual International Family Golf Festival on Sunday, Aug. 23. The festival, which encourages parents and families to learn and play golf together, invites participants to enjoy an afternoon of free golf instruction, interactive games, family programs and a chance to win a variety of prizes. The schedule of events includes a complimentary lunch from 1-2 p.m., instructional clinics from 2-4 p.m., interactive games from 4-5 p.m. and an evening golf outing with a cost of $39 for adults. Those 15 years of age and younger, if accompanied by an adult, can play for free. Registration is required and space is limited to the first 14 families of four or 56 guests that sign up. For more information, call 703-631-3300.