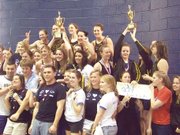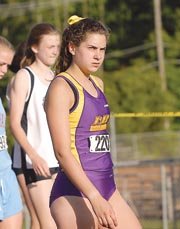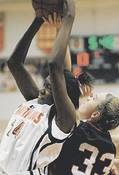 <b>Lake Braddock Secondary</b>
Mascot: Bruins
School Colors: Purple and gold
Rivals: West Springfield, Robinson, South County
Athletic Director: Mark Martino; 703-426-1170
Athletic Hotline: 703-827-7990
Famous Alums: Hubert Davis, Mia Hamm, Allen Johnson … Davis, a former NBA player and current ESPN analyst, still holds the school's career scoring record with 1,604 points; Hamm helped the Bruins win a state title in 1989 before shining at the national level; Johnson won collegiate track titles at North Carolina and 110-meter, Olympic gold during the 1996 Atlanta Games.
Notable Coaches: Diane Miller (field hockey), Jody Rutherford (baseball), Mike Mangan (cross-country, track and field)
<b>Robinson Secondary</b>
Mascot: Rams
School Colors: Blue and gold
Rivals: Lake Braddock, Westfield, Chantilly
Athletic Director: Marty Riddle; 703-426-2126
Athletic Hotline: 703-790-2222
Famous Alums: Rob Muzzio, Chris Warren, Javier Lopez … Muzzio, a decathlete, placed fifth at the 1992 Barcelona Games and won NCAA Division-I decathlon titles in 1984-85 … Warren ran for 1,545 yards with the Seattle Seahawks in 1994 … Lopez won a World Series ring with the Boston Red Sox in 2004.
Notable Coaches: Mark Bendorf (football), Jim Rike (girls' soccer), Paul Fisher (boys' tennis)
<b>West Springfield High</b>
Mascot: Spartans
School Colors: Orange and blue
Rivals: Lake Braddock, South County
Athletic Director: Andy Muir; 703-913-3909
Athletic Hotline: 703-749-8100
Famous Alums: James Dexter, Kara Lawson, Joe Saunders … Dexter was an offensive lineman for the NFL's Arizona Cardinals and Carolina Panthers … Lawson, a current Sacramento Monarch and former Tennessee Lady Volunteer, won gold with Team USA at the 2008 Beijing Games … Saunders was an all-star selection with the Los Angeles Angels of Anaheim in 2008 when the lefty went 17-7 with a 3.41 ERA.
Notable Coaches: Bill Gibson (girls' basketball), John James (baseball)
<b>How It's Structured</b>
The majority of Northern Virginia's public schools are members of the Virginia High School League. The VHSL is based in Charlottesville and is the largest governing body for prep sports in the state. Public schools are divided into three classifications of competition in the state: AAA, AA and A, with all schools in Fairfax Country representing AAA, the largest.
Four districts -- the Concorde, Liberty, National and Patriot -- comprise the Northern Region, which is one of four such classifications in AAA (the Eastern, Northwest and Central are the others).
This athletic season marks a significant change, too, for the Northern Region's landscape with Hayfield, Fairfax and W.T. Woodson all shifting districts. Hayfield will rotate from the Patriot to the National, with W.T. Woodson leaving the Liberty to fill in behind. In W.T. Woodson's Liberty slot, Fairfax will shift from the Concorde, which now only has six teams.
Here are the re-aligned districts for the 2009-10 athletic season:
Concorde: Centreville, Chantilly, Herndon, Oakton, Westfield, Robinson
Liberty: Stone Bridge, Langley, Madison, Marshall, McLean, South Lakes, Fairfax, Jefferson
National: Edison, Falls Church, J.E.B. Stuart, Mount Vernon, Wakefield, Washington-Lee, Yorktown, Hayfield
Patriot: Annandale, Lake Braddock, South County, T.C. Williams, West Potomac, West Springfield, Lee, W.T. Woodson
<b>What You Missed</b>
This year it was the girls who had their day. Several days, actually. In an area flooded with successful teams, the girls' outdoor track and field and field hockey programs at Lake Braddock, as well as the girls' lacrosse, swim and dive and indoor track and field programs at Robinson authored memorable seasons during the 2008-09 school year.
The first area girls' team to win a Northern Region title was the Lake Braddock field hockey team, which has been coached for the past 28 years by Diane "O" Miller. After winning what became Miller's seventh region trophy, Lake Braddock's players had one goal: The Bruins wanted to win a Virginia AAA state title for their coach, who had never, despite a career that includes more than 400 wins, won one.
Though Lake Braddock felt short, losing 1-0 to Princess Anne in November 2008, the season went a long way toward cementing Lake Braddock's reputation as one of the area's top field hockey programs.
"I told them, as long you left everything on the field, there's nothing else you can do," Miller said.
The Robinson girls' indoor track and field team, behind speedy freshman Genamarie McCant and graduating senior Kelly Kavanaugh, finally broke through to win the program's first region title since 1987. To prove the Lake Braddock girls' outdoor track and field team's dominance, put it this way: The last time the Bruins did not win a Northern Region title, this year's crop of graduating seniors were around 11-years old. The Bruins, with a 105.5-44.5 victory over Robinson this past spring, won their seventh straight region title.
In the pool, it was a typical winter at Robinson … almost. The sun came up. Swimmers abused bottles of body paint and sported funky haircuts. Robinson won a state swim and dive title. However, this time it was the girls' team that joined in the celebration, matching the boys' team's seventh straight state crown with the girls' first since 1994.
<b>Save This Date</b>
Part of the ritual of moving to a new place is checking out the local high school football scene, or at least that's the way sports-obsessed folks think anyhow. So, this fall, make it a priority to watch two local teams on the gridiron.
After 10 years on the West Springfield sideline, Bill Renner stepped down as head coach of the football team this past February, paving the way for former Marshall coach J.T. Biddison, who was hired in February. Biddison's first test will be a tough one, though, as the Spartans play host to Edison in Week 1 (Sept. 3) at 7:30 p.m.