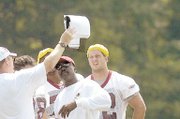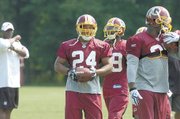 It was their second day of Washington Redskins training camp, and yet, as an early Sunday morning drizzle sprayed Redskins Park this past weekend, Kelly Williams of Ashburn and Ashley Hilberath of Sterling already felt like grizzled football veterans.
Lifelong Redskins fans, Williams and Hilberath had never been to training camp before, but quickly picked up a few tricks of the trade so to speak. A day earlier, the two had stood in an autograph line next to two screaming children. As star running back Clinton Portis approached, he signed the two children's memorabilia and then called it a day, tossing his cleats high into the air to create a free-for-all amongst fans.
"He walked right by us," sighed Hilberath.
The reason the two were among the autograph seekers was their late arrival. "We couldn't even see practice," said Williams. "That's how far back we were."
The two had learned their lesson the next day, arriving extra early to position themselves along the front row of autograph seekers with a clear view of the Redskins going head-to-head in practice. And while the familiar humid August weather here was the problem on Saturday, the morning drizzle that turned into a momentary shower presented others.
"We're wet again," said Hilberath. "But yesterday it was from the heat."
<b>RAIN OR SHINE</b>, though, Washington Redskins training camp has become a ritual of sorts for the entire football-crazy communities surrounding the Washington, D.C. area. But it's no more apparent than in Loudoun, where the Redskins make their home every day except the eight Sundays and two preseason games a year when their talents are on display at Fedex Field.
The 2009 camp opened this past weekend and practices will remain open and free of charge for the public through this Sunday's Fan Appreciation Day.
For years, the Redskins conducted the month-long practice sessions up in Carlyle, Pa. or at Frostburg State University in Maryland. Since 2003, though, the team has eschewed an actual camp away from home in favor of using its own facility in Ashburn.
The 80 players that begin camp are housed at the nearby National Conference Center and bused into Redskins Park for two practice sessions a day.
On this Sunday, even with the rain, the crowd was more than 15 rows deep. Some were cheering the dominating abilities of recent defensive addition Albert Haynesworth, while others lamented the subsequently sorry state of the Redskins offense having to go up against the likes of the 350-pound lineman.
And while names like Haynesworth, Clinton Portis, and Jason Campbell are what draw the fans in masses, the most interesting part of training camp oftentimes involves the 27 players who have no guarantee of making the Redskins 53-man roster once the regular season begins.
<b>TAKE FAIRFAX</b> native J.D. Skolnitsky, a defensive line hopeful who stayed late for extra special teams work and was then forced to carry the helmet of veteran Renaldo Wynn — a little rookie hazing. But it's a long way from where he was in the fall, when he failed a drug test at James Madison and was forced to declare for this year's NFL Draft after his junior season. Now he's trying to make an impression on the Redskins coaching staff enough to secure one of those precious few remaining roster spots.
"Going from not really knowing if I could continue with my football career and now this," said Skolnitsky as he walked off the field Sunday. "It's definitely a nice change."
This will be Potomac native Marcus Mason's third training camp with the Redskins. A Georgetown Prep grad, he made the team out of training camp in 2007, only to be released after week one and relegated to practice squad duty. Then, in 2008, he led the NFL in rushing yards during the preseason, but was released by the team again. He spent parts of last season on the Ravens practice squad and was later picked up by the New York Jets.
He still hears the familiar refrain of "Georgetown Prep" yelled out by hometown fans who have been watching him develop over the years. But while the fans stay the same, each training camp is different. This time around, Mason has dreams of something more. "I made the team before," he said. "Now I'm trying to get on the field."
Located off of exit 7 on the Dulles Toll Road, Redskins training camp is free and open to the public for select practices. Usually the team has an open session in the morning, before closing camp to non-media in the afternoon. Parking is also free. For a complete training camp schedule and information, check www.redskins.com.
"It's a cool local thing for people to do," said Hiberath. "I know I'm gonna come again next year."