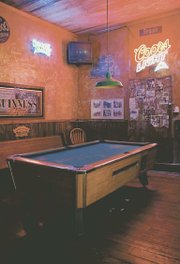 So Mother's Day is looming on your calendar, and you want to get her the perfect gift. If you suspect a work of fine art might do the trick, head on over to Colasanto Park at the corner of Mount Vernon and Commonwealth avenues the day before Mother's Day. Vendors will be selling jewelry, soap, sculpture, paintings, photographs, ceramics, fabrics and much more.
"This is a great chance to get art that's less expensive than it would be if you bought it framed from a gallery," said Rob Rudick, who has been organizing the annual sale for the last five years. "And it's so close to Mother's Day that it's a great opportunity to get a perfect gift."
Rudick said that many artists will be offering unframed prints and matted work at prices lower than framed pieces. Overall, the sale will feature original works from more than 20 artists in a variety of 2D and 3D media will be featured. Although Rudick acknowledged art sales have been down in recent months because of the economy, he said that recent weeks have seen more activity. Others agreed that the market for art seems to have picked up lately despite continued economic hardship.
"In times like these, art is a good investment," said Del Ray Artisan Michele Reday, who has been selling paintings in the springtime art sale since it began five years ago. "You could buy fashion, but that will come in and out of style. A painting is forever."
Participating artists say the springtime art show has a much more intimate feel than the larger and more well known Art on the Avenue, which takes place in October. The smaller scale allows the Commonwealth Avenue gallery to be featured in a way that larger events won't allow. And participants are limited to active members of the Del Ray Artisans, so the universe of work available is strickly local.
"This gallery has a strong connection with the neighborhood, so people tend to come out," said Michele Banks, a painter who has participated in three of the springtime sales. "It's not a huge crowd, but it's a nice crowd if the weather cooperates."