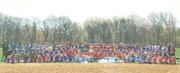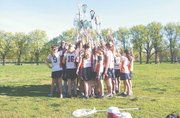 <b>Wildcat Time on Mall</b>
Last weekend, the Springfield Youth Club Wildcats, a U-13 girls' lacrosse team, participated in the Cherry Blossom Lacrosse festival on the grounds of the National Mall. The Wildcats played their four games with passion and perseverance, as the team tied two and lost two. Highlights from the festival included some quality goalkeeping from Grace Hellier and Kate Spata, stout defense provided by Maureen Ammirati and great work at the draw circle by Emily Dennee. The offensive point leader for the day was Neely O'Grady. Other notable efforts came from Tina Nagel, Rachel Montavon, Jade Samec and some guest players from Springfield's U-11 team that played up for the tourney, Courtney Coster and Caitlyn Smith.
<b>Robinson's Vaughn a Saint</b>
With the 16th pick in the fourth round of this past weekend's NFL Draft, Robinson graduate Chip Vaughn became a member of the New Orleans Saints. A safety, Vaughn started 12 of the 13 games he appeared during his senior season at Wake Forest. He finished with 87 tackles and two interceptions while also breaking up six passes and recovering two fumbles. At Robinson, Vaughn, a 2004 graduate, had 83 tackles during his senior campaign when he was a first team All-District, All-Region and All-State selection.
<b>Lacrosse Registration</b>
NoVa West Lacrosse is conducting registration for its summer camps, clinics and select teams. Camps and clinics will take place throughout June and July, while tryouts for the U-15 Virus will be May 16 and 17. Tryouts for the Crusaders and Outbreak, two high school select teams, will be on May 23 and 24. NoVa West has recently been selected as the exclusive provider for lacrosse in the new Purcellville Pavilion indoor facility and will be hosting summer, fall and winter indoor leagues there. For more information, visit the organization's Web site at www.NoVaWestLAX.com.
<b>Football Officials Needed</b>
The Northern Virginia Football Officials Association (NVFOA) is seeking new members for its 2009 training class. No experience is necessary and both men and women over the age of 18 are welcome. The NVFOA is the sole supplier of public high school football officials for the cities of Alexandria, Winchester and Falls Church and the counties of Arlington, Fairfax, Prince William, Loudoun and Fauquier. Football officials are also supplied for the Interstate Athletic Conference and the Mid-Atlantic Athletic Conference, which include private schools in the Washington, D.C. metropolitan area. Training classes begin June 9. Applications and information can be found at www.nvfoa.com or by contacting commissioner Dennis Hall at 540-837-1316 or via e-mail at commissioner@nvfoa.com.
<b>Softball Tryouts</b>
The NoVa Blaze, a girls' travel fastpitch softball organization, will conduct a tryout for its U-16 and U-18 teams on May 3 at McLean High School from 12 to 2 p.m. For more information, visit the Blaze's Web site at www.novablaze.org.
<b>Flag Football Registration</b>
The Northern Virginia "NFL" Youth Flag Football League has opened up registration for the fall season. The 2009 season will mark the league's 12th year in providing NFL Flag Football for boys and girls ages 5 through 14. The league is the oldest and largest NFL-sanctioned program in the Washington, D.C. area and focuses on teaching young players all the fundamental skills of football. To learn more about the program or to register, visit www.novaflag.com.