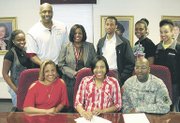 It only made sense that at the moment Mount Vernon senior Janae Jackson signed her letter-of-intent to play college basketball next year that teammates Tracy King, Jasmine McDonald, and Ivy Turkson were on hand to witness.
By putting her signature on the dotted line, Jackson is now committed to continue her playing career at Division II Barton College, but the reasons she's taking her talents to the small North Carolina school located 50 miles outside Raleigh have a lot to do with her three friends.
"It just felt really comfortable there," Jackson said. "It reminded me of these crazy girls."
Jackson was an integral member of this winter's Mount Vernon girls' basketball team that made it all the way to the Northern region semifinals, falling one game short of playing in the state tournament.
While King garnered her fair share of the postseason accolades, it was Jackson who sacrificed her talents for the good of the team, playing defense and becoming a ferocious rebounder. Assistant coach Courtney Ryan Coffer called her "the heart and soul of the team," thanks to her ability to hit timely baskets and inspire teammates when they were down.
Jackson averaged close to 12 points, nine rebounds, and two steals per game during her senior campaign, but first-year coach Terry Henderson said those numbers can be misleading.
Because she was in foul trouble sometimes, "she can do a lot more than that," Henderson said. "I think the college game is going to suit her better because she's so aggressive."
Jackson is the first Mount Vernon girls' basketball player to sign on with a college since 2006. She also fielded interest from Limestone College, Winston-Salem State, and Delaware State among others.