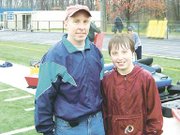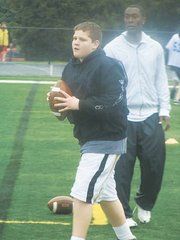 Consider Mike Breslin Jr., a 10-year-old lacrosse and basketball player from the City of Fairfax, hooked. And signed up, at least tentatively anyway.
Despite having never played organized football before, Breslin was able to convince his father, Mike Breslin Sr., to let him participate in the Saturday, April 11 Skills and Drills Football Camp at Fairfax High School, which was hosted by the Fairfax Police Youth Club.
The older Breslin didn't feel that his son was quite ready for football, mainly because Mike Breslin Jr. is big for his age and would've been on a team with mostly eighth-graders. It's not so much the contact that frightened Mike Breslin Sr., more of it revolved around the conversation topics.
Regardless, a cold, rainy and soggy Saturday morning meant one thing to the 10-year-old diehard Washington Redskins fan, who cited tight end Chris Cooley as his favorite player: football and the chance to finally play it.
The camp, which was geared toward those on the beginning end of their football learning curve yet featured instruction from youth league coaches all the way through those with professional experience, gave Mike Breslin Jr. "a taste of football" and "the chance to improve my skills."
Mike Breslin Sr., who arrived early, watched a little, stopped home for a bit to dry off and then came back and watched some more, was more impressed with the organization of the camp, how it was run and the work of its volunteer-based staff.
"This was a nice introduction for my son into football," said Mike Breslin Sr. "The number and quality of the coaches is really impressive. I've seen other camps that he's gone to for other sports -- that I've paid a great deal more money for -- that haven't had the array of coaches that are here."
This fall, Mike Breslin Sr. said he's caved. His son will be signing up for football.
<b>THE TWO COLORS</b> just didn't match. As Andrew looss, 12, fumbled with his blue and gray Dallas Cowboys hat and a burgundy and gold Redskins' football that was a camp-wide gift from safety LaRon Landry -- a scheduling mishap prevented his attendance -- looss eventually gave up, unceremoniously tossing the football underneath the bleachers at Fairfax High School.
Camp director Barry Thompson and his 29-member staff surely hope that looss doesn't do the same with the skills he learned Saturday.
"We really stressed fundamentals," said Thompson, who set up 10 stations -- five offensive, four defensive, plus a kicking station -- and the players rotated through each, moving on with the next ear-piercing sound of an air horn.
"The stations were designed that if they were excited about a particular position," Thompson said, "the drills that they were doing were things that they could easily do at home."
Indeed, looss represents the opposite end of the spectrum. An offensive and defensive lineman, looss has played football within the Braddock Road Youth Club for years. In a few more, he plans on suiting up for Robinson. In the meantime, he hoped that attending the camp would help him "hone his skills."
Working with former NFL player and current NFL Europe assistant coach Marques Ogden, looss picked up a few pointers about pass protection and his footwork during the task, something his future quarterback should already be thankful for.
"You can always learn another thing for your position," looss said.