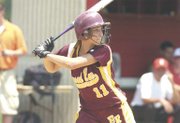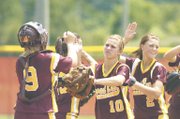 It is unrealistic to believe the Broad Run High girls' softball team could be as dominant as the Spartans have been the past two years when they went unbeaten and won consecutive Virginia State AA titles.
But head coach Ed Steele's squad, while less experienced this spring, has a rock solid belief that it can experience its own successful journey. The Spartans might not go 29-0 as they have the past two seasons, and they no longer have the best pitcher in the state with former ace Caitlyn Delahaba having graduated, but they are a hungry, confident squad that would love more than anything to leave their own mark in the annals of the program's storied history.
The Spartans are excited about their past, but hardly swallowed up by it. They have every intention of once again giving it their best shot and ultimately qualifying for the state playoffs again. Yes, the team has a different make-up this season after losing five players to graduation. But Broad Run is still a highly confident team carrying much of the aura that comes with consecutive state crowns.
"It's a mindset of Broad Run softball, that's what it is," said Steele, who has led the Spartans to three state titles (2000, '07, and '08) during his time as head coach of the program. "It doesn't change. When we go into a game, we expect to win. It's that simple."
<b>BROAD RUN</b>, 6-1 overall and 4-0 in the Dulles District, lost for the first time in over two years when it fell at Ashburn rival Stone Bridge, 4-2, on March 30. It was the program's first loss since falling at the state quarterfinals to conclude the 2006 season. Despite the setback to the Bulldogs, the team's confidence and composure have not been shaken. Broad Run came back the following day and defeated Dulles District opponent Loudoun County, 3-2, in an extra inning road win. Senior catcher Haley Johnson's one-out, solo home run in the top of the ninth inning broke a 2-2 tie and proved to be the game-winner.
Delahaba is no longer on the mound, striking out opposing hitters at a feverish rate for Broad Run as she did in recent years. Now, the focused, determined right-hander, one of the best high school pitchers the state of Virginia has ever seen, has taken her game to the Big East as Villanova University's starting pitcher.
Meanwhile, on the hill for Broad Run now is steady senior Judy Betz, a solid, composed player who is hardly overwhelmed at being the pitcher to follow Delahaba. Betz, who underwent a surgical procedure on her right throwing arm in early December, has taken it slowly early on this season. Steele has been careful about not overusing Betz, utilizing backup pitcher Anna Blessing, a junior, and third stringer Kate Sims, a freshman. Betz pitched just four innings against Stone Bridge. As a result, she was available to pitch all nine innings in the extra inning affair with Loudoun County the following day.
"She's not as fast as she ordinarily is," Steele said earlier this spring, in regards to Betz coming back from her arm injury. "But she is smart and hard to hit. We're hoping by midseason, she'll be at full strength."
Many of Broad Run's opponents struggled to even put the ball into play when Delahaba, a tremendous strikeout pitcher, was on the mound. With Betz, it will be a different story. Broad Run's defense will have to be on top of its game if the Spartans are going to hold down opposing offenses this season. In the loss to Stone Bridge, a poor fifth inning on defense resulted in the Bulldogs scoring all four of their runs and overcoming a 2-0 deficit.
"Our girls do realize our defense can't go to sleep this season," said Steele. "We're not going to watch 19 strikeouts in 21 batters with two little [fielding] plays. They know they have to play defense and won't be standing around and twiddling their fingers."
<b>BETZ, WHO DID NOT</b> allow a run over her first three starts this season (15 innings) in wins over Oakton, Briar Woods and Freedom, is not overpowering on the mound, but is a quality pitcher.
"Judy is not a Delahaba-type pitcher," said Steele. "She keeps batters off balance and hits her spots. Most of the time, [hitters] don't get a solid read of her pitches."
Betz said she tries to get batters to hit the ball into play early in the count to cut down on her pitch count and utilize the defense behind her.
"I always want to make them hit my pitch," said Betz, the pitching backup to Delahaba last year. "Caitlyn was so good at striking people out and not letting batters touch the ball. I like to get the defense an easy play with a ground out or pop up."
Betz said her nine-inning outing against Loudoun County was somewhat of a struggle.
"Some innings were definitely tougher to get through than others," said Betz, who allowed just two runs in the Spartans' win. "[Catcher] Haley Johnson helped settle me down."
"Judy pitched great against Loudoun County," said Johnson, who caught Delahaba, her best friend, the past three years. "I think she's starting to feel better. I think she's looking a lot better than she did at the beginning of the season."
Johnson said it's naturally a big difference catching Betz after having been the backstop to Delahaba.
"I'd always been catching Caitlyn since my freshmen year," said Johnson. "It has definitely been a change f or me. But Judy is a good pitcher herself. I've just had to pick up on what she does. She can mix it up a lot and has speed and some of the same pitches as Caitlyn. She keeps her composure well and knows the game real well."
<b>BROAD RUN</b> had a trio of core senior leaders last year in Delahaba, first baseman Karla Powell and shortstop Ashley Kramer. Powell is currently playing at the University of Wisconsin while Kramer is playing at Longwood University.
"They were the real deal," said Steele, of the threesome.
The coach said opposing teams this season are much more confident going up against a Spartans' team that does not have to bat against Delahaba.
"I think most of them are licking their chops now and thinking `We can beat Broad Run. They lost five seniors and their [current] pitcher had an operation [last winter]. It's our chance to get them,'" said Steele.
But Broad Run still has top notch talent, including returning First Team All-District selections in Johnson (catcher) and Blessing (outfield). Johnson, the team's fourth year starting catcher and clean-up batter, knocked in 30 runs last year.
"Haley is an awesome player," said Steele. "She's a great catcher. Our three pitchers all love her because she doesn't let them make mistakes. And no one runs on her because if they do they know they'll be out."
Johnson's game-winning home run over Loudoun County two weeks ago is Broad Run's highlight moment of the season thus far. The round-tripper, which came with one out in the top of the ninth, sailed over the left center field fence.
"I just looked for my pitch and it went out," said Johnson. "It was real cool."
Prior to the start of the season, Broad Run listed its team goals in a team meeting. Those goals included winning district, region and state titles, as well as always hustling and giving it 100 percent. During games, a poster with those stated team goals is hung up in the Broad Run dugout — a reminder of what the Spartans hope to accomplish. Fulfilling those goals, specifically winning district, region and state championships, will not be easy. But to a player, the Spartans are determined to give it their best shot.
"We don't necessarily view ourselves as a dominant team," said Johnson. "But we see ourselves as one of the best teams in the district. We have a lot of talented players, regardless of their grade. We have some freshmen and sophomores who can really help us out. Our goal is to still win states."
Broad Run took an early season blow when senior second baseman Reagan Doiron, in the team's game against Briar Woods, batted a foul ball off her foot. Doiron continued to play two more innings before having to leave the game. It turned out she broke three bones in the foot and could be lost for the season. Freshman Jennie Himler has filled in nicely at the position, but the loss of the seasoned Doiron hurts Broad Run.
Yes, there will be adversity to overcome. But Betz believes this can be another memorable season for the Spartans of Broad Run.
"My goal this year is to help get our team to states," she said. "Even though we're a younger team I think if we all work hard we can go to states. It's just going to be more of a climb this year."