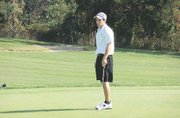 In August, prior to this current golf season, Lake Braddock teammates and Bruins coach Karl Kearns made a wager. Team captain Tommy Davis and Ben Chandler, both seniors, split off into a pair while Kerns and sophomore Kenny Towns did the same.
The foursome would embark on a two-man best-ball tournament and the result was what nobody wanted: They tied.
"They've been bugging me since August, wondering when we're going to break this tie," Kerns said.
Kerns coaches a competitive group of high school golfers and the youngest of that group may be the most competitive of them all. In last week's Patriot District Golf Tournament at Twin Lakes Country Club, Lake Braddock finished first while Towns won the individual title with a two-day score of 145.
"It's not overwhelming," Towns said, "but I was real excited walking down the 18th fairway because I was pretty sure I sealed the victory."
Chandler finished third (153) and Davis finished fifth (155), but the most head-turning performance belonged to Towns, who started at third base as a freshman for Lake Braddock's Northern Region-champion baseball team last spring.
<b>SWINGING A GOLF CLUB</b> and swinging a baseball bat may seem like two unrelated tasks, but for Towns, the slightest dip of his back shoulder at the plate could cause that once-pretty approach to the green look like a weak-hit fly ball that ends an inning.
For Kerns and Bruins baseball coach Jody Rutherford, Towns' double life hasn't been a problem. It even produced a comical discussion between the two.
"Coach Rutherford and I talk, and he asked me, 'How good of a golfer is he?'" Kerns said. "And I said, 'He's a pretty good one, so don't ruin him.'"
For Towns, it's simple. During the golf season he plays golf, and in baseball season he plays baseball. If a conflict ever occurs, he'll just hit an extra bucket of golf balls or take a few extra rounds in the batting cage to eliminate any brewing habits.
Off of the golf course, Towns' maturity and competitive drive have enabled him to perform at such a high level. Like many sophomores who've found a spot on a varsity team, Towns spends most of his time with older teammates. Unlike many sophomores who've found a spot on a varsity team, Towns is neither uncomfortable nor timid.
"Even though he's a sophomore, everyone thinks he's a junior or a senior because of the way he carries himself," said Kerns, whose team will compete in the Northern Region Golf Tournament next Tuesday and Wednesday at Fairfax National. "He's just much more mature than other kids his age. He loves to play the game, but what I like about him, he loves to compete and he competes to win."
On the baseball diamond, Towns was a constant at third base for Rutherford. On a roster with 10 seniors, seven of whom were starters, Towns' confidence grew with each game.
"He likes to be in the spotlight," said Rutherford, whose team compiled a 23-4 record last spring. "When we need a big hit, he wants to be the guy at the plate. In golf, he's always got the club in his hands, so he wants to be there in the district tournament. He wants to be there in the final group that has a shot to win it."
<b>IN OTHER TOURNAMENT ACTION</b>, South County's Steve Slocum shot a two-day score of 151, and the Stallions finished second as a team with an aggregate 643. Rounding out the Top 10, Mark Spicer chipped in with an eighth-place 162, while Josh Carey also helped bolster the Stallions' scoreboard with his 163. In addition to the aforementioned Lake Braddock performances, Michael Quinteros grabbed seventh place with his 160. West Springfield finished third (664) as a team, keyed by Bobby Bradshaw's 163, and Hayfield's Matt Lipscomb finished fifth (156) for the Hawks (fifth, 667).