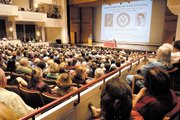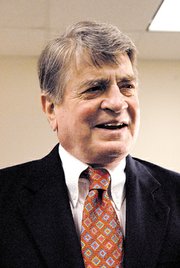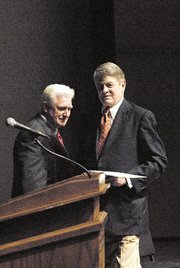 It has been said that those who ignore history are doomed to repeat it. That was the core of former Texas Democratic Congressman Charlie Wilson's message to an overflow audience last Wednesday night at Schlesinger Center on the Northern Virginia Community College's campus in Alexandria.
"The United States needs to develop a lot better staying power. We had a chance to save Afghanistan for a lot less money and human sacrifice than what we are now facing," Wilson told the audience that filled the auditorium and spilled out into an adjoining area where they watched on closed circuit television.
Booked as a town Hall meeting by U.S. Rep. James P. Moran (D-8) the two hour event, entitled "An Evening with Charlie Wilson," focused on U.S. foreign policy in Iraq, Afghanistan and the Middle East, now and in the past. As with anything in Wilson's approach to life, it was not dull nor a policy wonk recital of the challenges now faced by America in that region of the world.
He reiterated several of the opinions he expressed in an earlier press interview which emphasized the theme, "that a strong military alone is not enough to ensure our long-term national security." His main point being that America has a habit of winning the war and loosing the peace.
His maverick approach to intervening in the Afghanistan/Soviet Union 10 year conflict in the 1980's was the theme of the hit movie "Charlie Wilson's War" starring Tom Hanks, as Wilson, and Julie Roberts. He was successful in securing a large appropriation in Congress to supply the Afghans with modern military weapons to thwart the Soviet's invasion of that nation.
As Wilson told the audience that victory by the mujaheddin tribal leaders led to the eventual fall of the Soviet Union and "made the world a safer place." He also noted, " Not long after that victory, the Evil Empire collapsed without spilling the blood of one American soldier."
Referring to a scene near the end of the movie, Wilson took the audience back to when he was pleading with Congress to appropriate additional funds to help the Afghans to rebuild their schools and national infrastructure. But, he was turned down.
"The war was over and, as usual, Congress just wanted to get out. They had had enough," he said.
"If we had continued some of that funding we would not have left the Afghans vulnerable to the Taliban and al Qaeda. It takes more than winning on a battlefield to make this country safe," he said.
When a questioner from the audience asked his appraisal of the Iraq War, Wilson replied, "Right now it's better than we ever thought it would be. While we are winning we should get out."
WILSON ALSO PRAISED Afghanistan President Karzi as "doing as good a job as possible" given the circumstances within the country and the reinvigoration of the Taliban and al Qaeda. He also believed that their resurgence could be stifled with more aid to the country in the form of education and helping them agriculturally to lessen their dependence on poppies, the source of cocaine.
Prior to answering questions, Wilson delighted the audience with a short biographical monologue of his beginnings in politics at the age of 13 in his hometown of Trinity, Texas. It all started because the town secretary at the time, poisoned Wilson's 14 year old dog, Teddy, who died right in front of him.
"Then he went around town bragging that he had done it. That made up my mind to run against him. I did and beat him. It also opened my eyes to what can be done through politics," he said.
Wilson eventually went on to serve in the Texas legislature and then Congress. As portrayed by Hanks he was far from the standard issue Congressman.
"Those who saw the movie and/or read the book know that there were a lot of accusations made about me," he said. "I plead guilty to all of them."
The movie not only highlighted Wilson's maverick, unorthodox approach to gain aid for the Afghans and his self-directed visit there to personally meet with warrior tribal leaders, but also his notorious escapades with women, booze and life in general. One particular scene depicts Wilson in a hot tube with several well-endowed showgirls whom he refers to as his "Angels" as he beguiles them with his tales of Washington life in the fast lane.
Wilson also worked for the CIA, specializing in the Middle East. A graduate of the U.S. Naval Academy in Annapolis, he served in the Submarine Corps and at the Pentagon. During his tour at the latter he concentrated on evaluating nuclear forces and capabilities, according to Moran's introduction.
It was while on a 30-day leave from the Navy that Wilson first decided to run for Congress. "The second district of Texas is one of the most conservative. But, they elected Charlie Wilson because they trusted and loved him," Moran said.
"To Charlie, the Russians were always the bad guys," Moran emphasized. That was borne out in a pre-presentation press conference with Wilson who acknowledged, "When I realized how cruel the Soviets were treating the Afghans I needed to change that situation."
ALSO, DURING THAT press conference, Wilson spoke about his heart attack a year ago when he almost died and underwent heart transplant surgery. "You don't want to get a heart transplant unless you absolutely need it. I now have a 33-year-old heart," he said.
When asked why he had left Congress his answer was vintage Charlie Wilson. "Congress is just not as much fun as it used to be," he answered. "What we did in Afghanistan was way outside the box. Today, you wouldn't even get out of the committee room before there was a leak to the press or the bureaucracy," he said.
He also chastised government for placing more reliance on military methods than on diplomacy and development in the war on terrorism. "We spend one percent of our budget on diplomacy and helping poorer nations build their infrastructure and 22 percent on the military and weapons development," Wilson said.."
The evening was best summed up by Moran at the conclusion of his introduction of Wilson, the man and the former Congressman, "We miss him in Congress," he said as he surrendered the podium to Wilson for an evening of insight to America -- past, present and future.