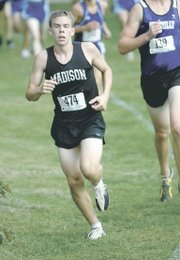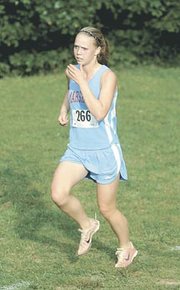 In one of the high school cross country season's premier showcase events, the Oakton High Cougars were near the top of their game at last Saturday's Oatlands Invitational in Leesburg. The renowned, 100-school meet, which brought together teams from across the state and beyond, took place on a brilliant autumn day.
Both the Oakton boys and girls varsity squads, competing in their respective, top tier `A' races, had days to remember as the Cougar boys finished first overall in the team standings while the Oakton girls finished third.
The Oakton boys, in a field of 48 teams, finished with 133 points for the team win, besting local rival and second place finisher Robinson (165) and third place Potomac Falls (216) of Loudoun County. Oakton's top individual finisher was junior Andrew Mc Cullen (16 minutes, 34 seconds), who finished 15th overall. Also for the Cougars, senior Neal Hendricks and junior Patrick Fulghum were 22nd and 26th overall, respectively. Oakton's final four runners, all of whom finished among the top 62, were Dante Morales, Karlan Cruz, Matt Woodhouse and Chris Weil. It was an outstanding team showing for the boys.
The Oakton girls, meanwhile, finished with 218 points, finishing behind first place Saratoga Springs (33 points) of New York and second place Brentsville District (206) of Nokesville. Oakton senior Becca Kassabian (22nd overall) and junior Lanie Smith (25th) were the Cougars' top two finishers. The other contributing team members were Kelly Jones, Alison Gregor, Kathryn Berlin, Oshin Shukla and Jenna Cahill.
Kassabian said her teammates' support of one another made the demanding 5K course at Leesburg easier to handle.
"It's tough, but easier when you know you have your teammates behind you," she said. "Of course [the large field of runners] is intimidating, but we all know in the long run, this race will benefit us."
Smith said the competition at Oatlands was incredible.
"It's certainly special to get a chance to race against teams this competitive," said Smith. "It was a pretty tough race the last few miles."
Madison High's top finisher in the varsity boys' `A' race at Oatlands was sophomore Matt Sollinger (46th overall, out of 300-plus runners). For the Madison girls, senior Brigid Byrne was the Warhawks' top finisher and 44th overall in a field of 261 runners.
<b>FOR THE MARSHALL HIGH</b> boys, senior Lucas Rooney was his team's top finisher in the varsity `A' race. The next top four finishers for the Statesmen boys were Will Sullivan, Andrew Dickson, Roger Rangel-Lafuente and Daniel Zirkle.
Zirkle, a senior, said one of the biggest challenges to the 5K Oatlands course is two steep hills which runners must deal with after about the one mile mark.
"Most of the race is downhill, except for the two hills," said Zirkle. "You push as hard as you can on the uphills and keep mentally strong."
Zirkle said he tried to use the vast competition for motivation to do better.
"You look at some of the teams with people [with times] under 15 minutes, and you strive to be like them," he said.
Earlier last week, the Marshall boys finished 14th among 24 teams at the Monroe Parker Invitational, held on Sept. 16 at Burke Lake Park. The Statesmen boys believe they can be an improved team in the Liberty District this season.
"We have a very strong team this year compared to years before," said Zirkle.
<b>THE TEAM CHAMPION</b> in the 48-schools' varsity boys' `A' race at Oatlands was Oakton High School (133 points) out of the Northern Region. The Cougars finished ahead of runner-up Robinson (165 points, Northern Region) and third place Potomac Falls (216), out of Loudoun County. Clarke County (328, Berryville, Va.) was fourth and Gonzaga High (331, D.C. ) was fifth. The individual `A' race champion was Tyler Stutzman (15: 44) of Western Albemarle High (Crozet, Va.). The top Northern Virginia-area finisher was Jared Berman of Robinson.
In the varsity boys' `B' race, Thomas Jefferson High (Alexandria) was the team champion with 29 points. Saratoga Springs (N.Y.) was second with 117 points. Top local team finishers in the 59-team race were Herndon High (5th place, 261 points) and Briar Woods (8th place, 356). The individual champion was Demetri Goutos (16:35) of Saratoga Springs, who finished ahead of Thomas Jefferson runners Alex Witko (2nd, 16:49) and Logan Gates (3rd, 16:56). Also for Jefferson, Timmy Galvin was fifth overall and James Wu was seventh. Westfield High's Jack Canatsey was sixth.
<b>ON THE GIRLS' SIDE</b>, Saratoga Springs was the `A' race team champion with 33 points, finishing ahead of second place Brentsville (Nokesville) with 206 points and third place Oakton (218). Other area teams finishing in the top 10 of the 37-team race were fourth place Osbourn Park (Manassas) and 10th place Potomac Falls.
Jefferson High, meanwhile, was the varsity girls' `B9 9 team champion with 52 points. Other area teams to finish in the top 10 in the 47 school race were Westfield (fourth place), Briar Woods (fifth), Yorktown High (seventh) and Centreville (10th). Rachel Grochowski of Chantilly High was the individual champion with a time of 19:43. Jefferson runners Stephanie Marzen, Sarah Stites and Katherine Sheridan finished second, third and ninth, respectively, while Briar Woods' Giana Leone (eighth) and Yorktown's Lindsey Hunt (10th) were also in the top 10.
<b>IT WAS A PICTURESQUE</b>, autumn day at Oatlands on Saturday. Thousands of spectators attended the event, which began at 9 a.m. Four JV races were held in the morning, two boys and two girls. Later in the morning, the four varsity races began, carrying into the afternoon. The `A' races, for the most part, consisted of the higher caliber runners. Following all eight races (JV and varsity combined), a brief awards presentation took place at around 2:30 p.m. Top 25 finishers in each of the races earned medals.
There were 101 teams (compared to 73 last year) and 4,300 runners on-hand for the meet, which has become known as the second leg of the triple crown of Northern Virginia area high school cross country.
The Oatlands extravaganza is considered the largest high school meet in Virginia and one of the largest on the East coast. Most of the meets' teams were from Virginia, but guest schools from New York, Pennsylvania, North Carolina, West Virginia, Colorado, Maryland and Washington, D.C. were also participants.
The host schools for the Oatland Invitational were Loudoun County and Freedom (South Riding) High Schools of the Dulles District. The meet organizers were Matt Oblas of Freedom and Derek Farry of Loudoun County.
The mostly grass running course, a 5K layout on the grounds of the historic Leesburg site, was a challenge for most all of the runners. There are several excruciating hills following the first, relatively easy mile. The near picture perfect course setting includes some wood trails and a couple of creek crossings.