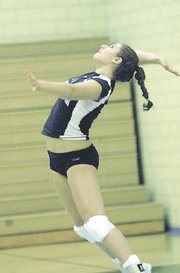 To any volleyball fan, it's easy to tell junior Elyse Bush, Yorktown volleyball's star player, apart from others during a given match. But the true indicator of just how talented Bush is on the court comes when a casual observer checks out the action.
Because even for the untrained eye, it's easy to see Bush is heads and shoulders above most of the northern region when it comes to volleyball.
"You'll notice very quickly who she is," Yorktown coach Brittanie Stowell said of her star player. "It's definitive and even everyone we play regionally, everyone says, 'Oh gosh, she looks so good. She's playing awesome, she's playing consistent.'
Bush has been on the Yorktown varsity volleyball team since she was a freshman, and according to Stowell, has been the best player on the team every year she has played. Last season, Bush was named second team all-Northern Region, the only player from the National District to garner such an honor.
Now as a junior, her play over the years has given her another distinction: as a star with a giant target on her back.
Last week when the Patriots faced off against Oakton in a non-district match, Bush was ill to the point that she couldn't play. When the Oakton coach found out, she lamented to Stowell.
"The coach told me they spent all of practice working on when (Elyse) was attacking the ball and what (they) were going to do on defense and how we were going to keep the ball away from her," Stowell said. "She's been here so long, getting recognized in the region and stuff, so everyone knows. The other teams we play, they are aware of her. It definitely shows."
Bush began playing volleyball in the seventh grade, when her mother started the Arlington Volleyball Club. Now, Bush plays for one of the area's top club teams based out of American University, where she trains year-round. And just this year, Bush added a jump serve to her game, which already featured a unique ability to both spike and dig balls. Through eight games this season, Bush has 119 kills, 63 digs, and 31 aces.
"A jump serve made me more of an all-around player," she says.
That's a scary thought for the rest of the northern region. Bush is the key cog in Yorktown's run for a third National District title in four years, a task that looks closer to reality after the Patriots dominated the Stuart Raiders in three straight sets by scores of 25-18, 25-18, and 25-15 Monday night.
The win upped Yorktown's record to just 2-6 on the season, but all of those losses have come against high-quality non-district opponents. After watching her team make easy work of a strong district foe like Stuart, Stowell hopes the learning experience of losing those early matches is beginning to pay dividends.
"The whole night we were in control and we haven't seen that yet this year," Stowell said. "But maybe it's just falling together … You could see we were starting to get there."
It helps having a selfless superstar like Bush, who was named captain of the team this season. Despite having nobody close to equivalent in terms of talent on the roster, Bush has never held it over the team, her teammates said. Instead, her play quietly helps cover up any mistakes others may make.
"At first, I was really intimidated that I was going to mess up," said junior Libby Kane, who added that Bush eased those fears right away. "What I realized is that she'll hit it even if I give her a bad set."