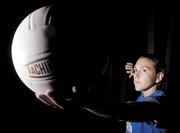 If Fairfax senior Theresa Harvey sends a volleyball your way, it's generally a compliment.
As one of the area's most ferocious outside hitters, Harvey picks a certain player or spot to exploit before every match, typically electing to target the opponent's top player or a spot around them.
No disrespect is meant by it, Harvey simply knows that to be the best, one has to beat the best.
A self-diagnosed competition addict, Harvey uses this little trick not only for herself but for her team. She knows that if that goal is accomplished, it'll help the Rebels' confidence grow.
"I guess I just use that as motivation," Harvey said. "The players that I single out are just really strong players, and so every time we do something well when [that player] goes against us, it will give us more confidence."
<b>HARVEY'S CONFIDENT REBELS</b> have steamrolled their way to an 11-1 start, making the senior leader look awfully smart. After last season's 13-6 mark, Fairfax lost the services of sophomore Marilyn Peizer, who transferred to Flint Hill. But with Harvey, the Rebels remain a force to be reckoned with in the Concorde District.
"Theresa is definitely someone who's our go-to-when-in-crisis hitter," said Fairfax coach Christine Zanellato. "But we try to balance our offense because if it was only her, we'd be very easy to beat because all people would have to do would be to camp out around her."
The daughter of a government employee and an electrical engineer, Harvey started playing organized volleyball at age 10, though her mother first peppered with her many years before. Through elementary and middle school, Harvey developed a love for the sport and also developed a love of competition, no matter what the game.
"Ever since I was little, I've always been playing sports," said Harvey, who loves Italian food. Every night before a big match routinely eats a big bowl of pasta. "I've always been competitive, and I'd just want to win."
As a self-imposed rule, Harvey won't end any drill, play or practice with anything but a successful kill. In addition to her high school stardom, Harvey maintains a rigorous club and travel schedule with Virginia Elite, something that has led to her most recent milestone: a college commitment.
After she was recruited at a club volleyball tournament in Las Vegas, Harvey took a trip to New York and visited the campus of Division-I Iona College, which is about 20 miles north of Manhattan.
<b>AT IONA</b>, Harvey felt comfortable. She knew that everything fit. And she also knew that she could swim there.
Wait, what?
It's assumed that your most talented athletes maintain some type of club schedule to supplement the work that's put in with their high school teams, but as if volleyball just wouldn't satisfy that craving for competition, Harvey is also a record-setting swimmer.
Harvey swam the anchor leg on the Rebels' 200-meter freestyle relay team, which set a state record at last winter's Virginia AAA swim and dive championships with a time of 1 minute, 38.63 seconds. Harvey also grabbed a third-place finish in the 100 freestyle.
"I don't think I could give it up," Harvey said of her love for the pool. "I've had high school swimming, club swimming and club volleyball all at once, so I know it's going to be a lot harder in college but I feel like I can handle it."
If what she's shown on the volleyball court serves as any indication, Harvey will be fine.
While the future Iona Gael has developed game plans of her own, coaches from around the district have been ripping their hair out trying to develop a game plan to neutralize her.
"When you get ready for Fairfax, you start with Theresa Harvey," said Westfield coach Jim Bour. "When you go out there and look at teams and who to plan for, it's no disrespect for anybody else, it's that [Harvey] is a major force we have to plan for."
"She's by far one of the best athletes that plays the sport of volleyball," said Centreville coach Ken Moser. "There are a lot of girls that play the sport of volleyball, but she's an athletic individual that plays the sport of volleyball and she'll continue to have success with volleyball based on her athleticism."