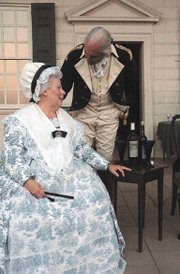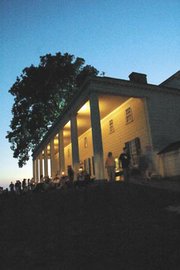 Why travel all the way to California's Napa Valley for some vintage wine? Some of the best is vatted right here in Virginia's 80 plus wineries. And, 16 of those vineyards will have their products available for tasting and purchase at Mount Vernon Estate's Fall Wine Festival and Sunset Tours.
To be held Oct. 3, 4 and 5, from 6 p.m. to 9 p.m. each night, this annual event also features exclusive evening tours of the Mansion and cellar, live blues music on the east lawn overlooking the Potomac River, and appearances by George and Martha Washington. Mansion tours are enhanced by interpreters relating Washington's attempts at developing his own vineyard and highlighting wine related items in the Mansion.
The Mansion's cellar gained worldwide prominence as the setting for several scenes in the movie "National Treasure 2: Book of Secrets" staring Nicholas Cage. Festival guests will get a chance to not only see and but also enter the brick vaulted wine cellar storage areas that served as the site of the "secret passage" entrance in the film. In the 18th century they served the more mundane purpose of storing the General's wine stash.
To accompany the various wines, fruit and cheese boxes, with enough snack items for two, can be purchased in advance at $24 each. In addition, A variety of hot and cold food and desserts, including baguettes, gourmet sandwiches, and specialty sweets will be available on site from the Mount Vernon Inn Restaurant. Outside food and beverages are not permitted.
Complementing the evening, as well as enhancing home entertaining capabilities, those attending the festival will be able to purchase a wide array of items from The Shops At Mount Vernon which will remain open until 9:30 p.m. each festival evening. Cases of wine purchased at the festival can be transported to The Shops by wine valets for easy pick up at the end of each evening.
In addition to a total complement of wines offered under the Mount Vernon label, The Shops offer a wide array of items to aid any host or hostess with upcoming holiday entertaining or make fall picnics and beach visits more enjoyable. These include such items as hand blown wine/cider glasses made in Jamestown, Va.; everyday Mount Vernon engraved wine glasses; collector Mount Vernon wine stoppers; silver plated entertainment accessories; and a heavy canvas wine tote that can carry a secured wine bottle as well as food and utensils.
The following vineyards will be participating in this year's event: Afton Mountain Vineyard, Barboursville Vineyards, Cave Ridge Vineyard, Chester Gap Cellars, Cooper Vineyard Fabbioli Cellars, Gadino Cellars, Horton Vineyards, Kluge Estate Winery & Vineyards, Lake Anna Winery, Pearmund Cellars, Potomac Point Vineyard & Winery, Shenandoah Vineyards, Tarara Winery, Three Fox Vineyards, Wintergreen Winery, and Prince Michel Vineyard & Winery.
Tickets, at $30 per person, are available at Mount Vernon's Ford Orientation Center or online at <a href=http://www.MountVernon.org>www.MountVernon.org</a>. Unfortunately, Saturday, Oct. 4, is sold out. However, tickets are still available for Friday, Oct. 3, and Sunday, October 5.
The Festival will take place rain or shine and all sales are final. Guest must be prepared to show identification for wine service. Designated drivers will receive free Coca-Cola.
All proceeds benefit the ongoing preservation and restoration of Mount Vernon Estate & Gardens and its varied educational programs. Mount Vernon Estate neither solicits nor accepts any governmental monies.