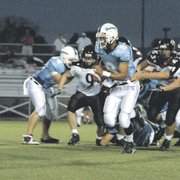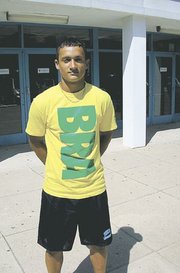 Maybe the best way to quantify just how much Yorktown High School senior Kyle Toulouse is called upon to do during a given football game is to think about the positions he won't play for the Patriots football team this season.
Essentially the list boils down to offensive line, defensive line, linebacker, and kicker. But that hasn't stopped Toulouse from thinking about adding more responsibility to his plate.
"If we really needed it, I guess I could be the kicker, too," said Toulouse, who will likely see action as Yorktown's quarterback, wide receiver, running back, full back, safety, cornerback, kick and punt returner, and punter this year.
In two short weeks, Toulouse has already made his mark on the 2008 season, leading Yorktown to a 2-0 start. In the Patriots season-opening 27-6 win over Wilson High School (DC) two weeks ago, Toulouse threw, caught, and ran for touchdowns from three different positions.
He followed that up this past week with an 80-yard touchdown run and two touchdown passes of 75 and 55 yards to give Yorktown a convincing 23-7 win over Madison.
"We've got five kids playing division one (college) football right now and without a doubt, Kyle's the most versatile," Yorktown coach Bruce Hanson said. "I bet you the whole year, in the whole metropolitan area, you aren't going to have what he has done (the past two weeks)."
Hanson said the decision to use his star player in such a wide variety of positions was easy since Toulouse had played them all previously during his Yorktown career. He came into the Patriots' system his freshman year as a quarterback, moved to running back his sophomore year, played some wide receiver and fullback last season as a junior, and returned kicks and played in the secondary throughout his high school career.
Despite past experience all over the field, Toulouse had never taken on the challenges of playing under center at the varsity level, which can be difficult since the quarterback has to know every part of Yorktown's wing-T offense.
Add on the fact that Toulouse didn't begin playing organized football until high school and it's clear Toulouse has more than just natural ability propelling him to remarkable success so far this season.
"I never had to coach him at quarterback, I never have to coach him anywhere, to be honest." Hanson said with a chuckle. "If you take a kid with a nice IQ and not as good an athlete and you try to teach him all these positions, he'll get confused. But Kyle, it's not a problem."
BUT TOULOUSE'S multi-dimensional exploits are not just confined to the gridiron. He is also an all-region second baseman and pitcher for Yorktown's baseball team during the spring, and also plays every position but center for the Patriots' basketball team in the winter.
In this day and age of high-school athletes specializing in one sport, Toulouse is a throwback to the days of three-sport stars that come more infrequently now. And from a young age, he was aware of his capabilities.
"I kind of got that sense early on that I wasn't set onto one position like you're a shortstop or you're a point guard or a running back," Toulouse said. "I kind of got that mentality that I would be playing a lot of positions. So when football came around, all these different positions just sounded normal to me."
Toulouse's two sisters now play soccer for the University of Massachusetts and University of Virginia, and Toulouse's father, Paul, thinks his son may be the most athletic of the bunch.
"It seems like he's having a lot of fun out there on the football field," the elder Toulouse said. "He makes it look easy, just looking on from the stands."
Hanson's experiment with Toulouse all over the field has been so successful, he now worries about using his star player too often in the same situations. Hanson thinks teams will start to game plan against Toulouse in the coming weeks, trying to limit the amount of times he touches the ball.
In that regard, Toulouse's role in the Yorktown offense should become more defined starting this week when the Patriots face unbeaten West Potomac. Yorktown's starter at running back a year ago, senior Jared Smith, returns from a two-game suspension, giving Hanson another weapon at his disposal.
Toulouse's athletic prowess has also drawn the attention of several colleges. He said he's received interest from Dartmouth, Columbia, Temple, and Holy Cross for football and George Washington, VMI, George Mason, and Charlotte for baseball.
And while he doesn't need to choose a position on the field, Toulouse is faced with a tough decision on what sport to pursue in college.
"That's the million dollar question," Toulouse said of his looming predicament. "It's kind of a good thing and a bad thing because they want to attract my attention to them, but I can't really give them all the attention because I've got all this other stuff going on."