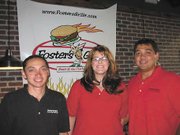 Foster's Grille is a fast-casual, family style restaurant that is now open in the newly revitalized downtown City of Fairfax at Old Town Village Fairfax. The franchise restaurant offers a menu of olde fashioned charburgers ($7.99), grilled hot dogs ($5.95), chicken sandwiches ($8.95) and simple salads — all reasonably priced in a family-friendly environment.
"WE TRY to keep simple," said owner Troy Fontillas, 37, of Leesburg. "Each individual fills out their own ticket, they can customize their menu the way they want."
Walk-in GMU students can order 12 buffalo wings with ranch and blue cheese for $8.99 or by the piece for $.55 cents. There's Nancy's Garden salad for $5.99 or $8.99 with grilled chicken, fried chicken or buffalo chicken.
Famous for its "Too Big for Two Hands," half-pound, open-flamed charburgers, manager Ashley Carey, 24, says "basically every sandwich we have is too big for two hands … It's so much food, our burger, that you have to cut it in half."
She says the Foster's famous grilled hot dog is "a huge hot dog and it's grilled over the open flamed. It's really good."
Adds Fontillas: "That grilled taste is definitely unique."
To go with the burgers, Foster's offers eight different draft beers — from Foster's Australian Beer to Sam Adams to Blue Moon. Says Fontillas: "A lot of people like the beer with their wings and their burger."
The menu is not set in stone. "We're just trying to deliver good, fresh, quality food, fast in an upbeat, energetic concept to make sure the customer is satisfied," said Fontillas. "Our customers know how to modify their menu to really cater to how they want their meals prepared."
The fresh, hand-cut fries are made from Idaho potatoes, freshly cut each morning. "We get the starch out of them, drain the water and fry them fresh," said Fontillas, who started his career in the IT field but always dreamed of starting his own restaurant.
"It's really a laid back feel," said Fontillas, referring to the exposed ceiling, brick walls, video games and the NASCAR car hanging from the ceiling — a model of the one they sponsor at Old Dominion Speedway in Manassas. "We got music going, we got the TVs ... lots of kids come here with their families."
THE SECRET of Foster's is its simplicity — the motto is to "keep it fast, keep it clean, keep it simple," Carey said. "That's why we have the ticket system, simple menu. It's fast. Not too extravagant."
The lemonade is made with fresh-squeezed lemons ($1.75). The hand-scooped, extra-thick milk shakes come in three flavors: chocolate, vanilla and strawberry for $3.50. "I love the food. I just love the concept ... There's something about Foster's Grille that's magical," says Carey.
Daily specials for $7.95 include Southwest Chicken on Mondays, with grilled chicken, provolone, grilled onions, BBQ and hot sauce with lettuce tomato and mayo. Tuesdays are Philly Cheesesteaks with grilled onions, provolone and tomato and mayo. Wednesdays are Buffalo chicken with hot sauce with lettuce, tomato and mayo. Thursdays are provolone grilled chicken with grilled mushrooms, grilled onions, lettuce, tomato and mayo. Fridays are Fried Fish Sandwich with beer-battered cod with tartar sauce on the side, lettuce and tomato.
But if you wanted to eat Tuesday's special on a Thursday, Fontillas said they'll prepare it for you.
Cookies are $1 in chocolate chip, peanut butter, and sugar cookie flavors. There's yellow cake with chocolate frosting, chocolate cake with chocolate frosting ($2.50/slice), and three flavors of ice cream: chocolate, vanilla and strawberry.
In the mood for a salad? Nancy Garden Salad has mixed greens, ripe tomatoes, shredded cheddar, crunchy almonds, crispy croutons, fresh chicken breast, breaded and fried or buffalo style. The Asian Chicken Sala has mixed greens, Mandarin oranges, crunchy almonds, crispy noodles, sesame oriental dressing and grilled up fresh chicken breasts.
With 30 Foster's Grilles nationwide by the end of 2008, there are local franchises in Vienna, Ashburn and Manassas.
"We try to 'wow' the customer. We want them to come here and feel the wow experience," said Fontillas, who is excited to be in the newly revitalized downtown Fairfax. "I'm hoping now with this whole new development, people have a place to go, to spend an evening out."
"I've always called Foster's my second home, my happy place," said Carey, whose worked with Foster's for five years. "I love the food. I just love the concept."