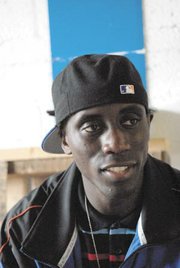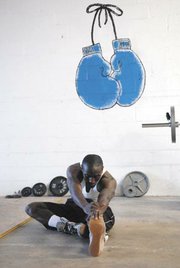 The sun is beginning to set outside the converted garage off of Jefferson Davis Highway that currently houses the Alexandria Boxing Club, making the problem facing several waiting boxers even more dire.
No one can seem to figure out how to get the lights working.
But in walks 28-year-old Kompa "Kay" Koroma and quickly the mood changes. Koroma, just back from Zambia where he won the Global Boxing Union middleweight title, heads directly for the drafty gym's circuit breaker, jimmying it with just the right touch, so practice can begin as usual.
Just one of the obstacles facing Koroma as he tries to shed more high profile light on the old gym these days.
"Everybody in Alexandria always ask me, 'Kay, you think you can beat Floyd Mayweather?'," Koroma said as he sat beneath posters of numerous local boxing notables that have stepped through the Alexandria Boxing Club through the years. "There's only one way to find out. Hopefully he'll come out of retirement and I'll get the chance. I want that chance."
Koroma began his professional career with three straight wins in 2007, all of which took place in venues around Northern Virginia. But things got off track following a doctor-imposed two-year hiatus from boxing due to a shoulder injury he sustained in an exhibition match.
With his injury finally healed this summer, Koroma signed up for a September match in Chungdu, China, scoring a second round TKO over unknown Bai Hang. The win impressed promoters enough to give Koroma his title shot — albeit a minor one — on October 4 in Zambia against Zambian native John Chibuta.
"When you go overseas they treat you really, really well," said Koroma, who defeated Chibuta after an intentional head butt left Koroma woozy, sending the fight to the scorecards after four rounds. Koroma said he made about $3,000 for the Zambia title fight, a huge pay raise from the $400 he estimates he would bring in from fighting on a local card. Koroma currently has a 9-to-5 job at a publishing warehouse that allows him to take leave for his fights.
"You wake up and everyone is rushing you," he said of fighting on other continents. "You feel like Muhammed Ali out there. You don't have to be someone in a poster or a magazine, they just love that you're in their country and you respect their country."
Whether he's a superstar in the making remains to be seen, but with a perfect 5-0 record during his short professional career Koroma appears intent on being more than just a "could have been" in the boxing world.
Those around Koroma have noticed he's much more confident in the ring, transforming from a more defensive boxer to an aggressive puncher in his most recent bouts.
And as of late, Koroma has been sparring with Demarcus "Chop Chop" Corley, a 34-year-old former Light Welterweight World Champion. Corley has fought, to varying degrees of success, Mayweather, Miguel Cotto, and Zab Judah — the kinds of big names Koroma strives to be mentioned with. After battling Koroma the past couple months in the ring, Corley doesn't see all that much of a difference.
"There's no reason why Kay shouldn't be fighting for a (United States Boxing Association) title within the next couple of months," said Corley. "His people just have to make the right phone calls and get the right fights for him."
<b>IT WAS DURING</b> his injury-induced hiatus that Koroma realized his fighting career could live on in other ways. Koroma, who was born in London, England before moving to Alexandria as a 12-year-old, remembered his days coming up as an amateur when he was told he could be great, but never really understood the work that goes into reaching one's potential.
It was the motivating factor in his decision to train many of the young fighters that frequent the Alexandria Boxing Club.
"I would watch other kids that I knew had talent, they just needed that push or to hear from somebody they looked up to," said Koroma "So that's when I thought, 'Hey I'll just go back and be a trainer, help out the community a bit.'"
One of his biggest points of emphasis is getting a young fighter's mind right outside the ring before stepping inside the squared circle. It's a new twist on the old cliché of boxing keeping kids away from violence on the street.
"Kay stays on you, he motivates you, and he trains you hard," said 22-year-old Alexandria native and T.C. Williams graduate Brandon Quarles, who estimates Koroma has been his trainer for about 30 amateur matches. "He always tells me to you're going to perform how you feel."
After two wins in a row overseas, Koroma says he is fine with the prospect of another minor title fight overseas, and recently decided to take a December fight in Kenya.
Ultimately, though, he longs to show the people of Alexandria that the sun never sets on a dream.
"I'm just trying to bring (a major belt) back to Alexandria." Koroma said. "We could fight in the back alleys, as long as it's sanctioned and a belt is on the line and everyone knows I'm fighting for Alexandria,"