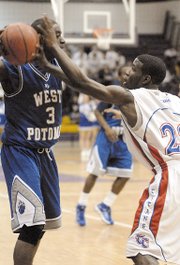 When it comes to now-graduated star guard Marquel De Lancey, <b>Mount Vernon</b> coach Alfonso Smith is being realistic. He knows a single player won't just step up and fill the void left by last year's National District Player of the Year, who is now at Old Dominion.
But Smith also understands that if his Majors sit around and lust for the 19 points and four assists per game that De Lancey took with him, no good will come of it. Still, replacing De Lancey is at the top of the to do list for a Mount Vernon team looking to exact revenge after being upset by Yorktown in the National District tournament final for the second-consecutive season.
"It's great for the program as a whole, but it's certainly a loss that you feel," Smith said of De Lancey. "These guys have the challenge that Marquel left his legacy and now these guys have the chance to step up and create one of their own."
One player who Smith has foremost on his mind is junior Skylar Jones, the team's leading rebounder from last season. Always a tantalizing talent, Jones suffered through a devastating knee injury his freshman season, but bounced back with a solid sophomore season a year ago. Now, the coach thinks Jones is on the brink of something special.
"I think he's going to turn a lot of heads this year," said Smith. "He's going to come out of Marquel's shadow."
But it won't be just Jones that will have to shoulder all the scoring burden this season. The Majors also return point guard Robert Smith, a back-up behind De Lancey last season, who will be the primary ball handler running the show for the Majors.
Second-team all district forward Robert Coleman also is back, along with guard Jesse Canate, a player Smith singled out as having made significant improvements to his game over the off season.
Six-foot-four senior Kyle Ricks should add some bulk in the interior, a weakness last year for the fast-paced Majors. Ricks did not play on the team last season.
Still, though, the specter of De Lancey remains, and it is up to the current crop of Mount Vernon stars to prove they can fill the void. In terms of talent, there's no question the Majors can do it. But talent doesn't guarantee championships.
"You hope that taste of hunger is still there and I believe that it is, I'm confident that it is," said Smith. "But there's nobody in the district that you can take lightly, so we're really going to have to work."
<b>West Potomac</b> coach David Houston III knows replacing experience can be difficult, but the prospect of a high scoring, albeit less seasoned team this year has him excited about what could be when it's all said and done in the Patriot District.
That also means not necessarily following the same script of last year's senior-laden team, which started the season slow, ended the regular season as hot as any team in the region, and then fizzled once it faced Langley in the first round of the regional playoffs.
"The goal is to take the baby steps through the end of the year," Houston said of his current squad featuring just two seniors. "This year's team needs to just build every day and when the playoffs come, be at the highest level we can play and ride that through the playoffs."
In his fifth season at the helm, Houston may just have his most athletic team despite losing seven players to graduation. And while they are young, the Wolverines will depend on veterans like junior point guard Shawn Lee, junior wing Martez Redfirm, and senior Will Kreger to carry them through the early portions of their schedule as a team chock full of youngsters gets acquainted to competition at the varsity level.