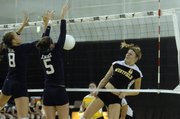 When Westfield volleyball coach Jim Bour could've accepted his team's second-place trophy Saturday night in Richmond, he declined. It's not that he has something against the metal and wood structure. It's just his personal philosophy.
Bour believes that every trophy signifies a journey for his team and he was just grateful to tag along for this ride. And after a season-long adventure that ended in the Virginia AAA state title game, Bour had logged some serious mileage.
"I told them today, they took me along for the ride," said Bour, following his team's 3-1 loss to Albemarle at Virginia Commonwealth's Siegel Center. "I'm just there for them, and they did this. I'm proud of them, and any kind of reward is theirs."
The Bulldogs (22-7) became the second straight Northern Region team to play for a state crown but also the second consecutive squad to lose. Langley lost to Deep Run on the same court last fall.
With losses in the Concorde District and Northern Region championship games, Westfield's run to the state title game became even more improbable. Following a 3-0 loss to Chantilly last Saturday night -- the Bulldogs' fourth loss to the Chargers this season -- Westfield went on the road to top Mills Godwin on Tuesday night.
<b>ON THURSDAY</b>, Westfield continued its late-season surge by blowing past Landstown, 3-1. But against Albemarle, which knocked off Chantilly Thursday night, the Bulldogs were unable to enjoy similar success.
"We keep our energy positive and keep ourselves motivated because we wanted to beat everyone that we can," said Emma Stewart, who finished with five kills and 10 blocks. "And sometimes it just doesn't work out, but we're not afraid of everybody."
Albemarle used a front-line mix of Kara Elder (20 kills), Laura Gomez (7 kills, 10 blocks), Hannah Lawson (10 kills) and Sarah Deal (12 blocks) to take the first two games (27-25, 25-16) before Westfield rallied in Game 3.
Behind six kills from sophomore Emily Kohler, the Bulldogs scored a 25-19 win.
"I'm so proud of how we played, just all of the energy coming from the bench, the screaming and the yelling, and we stayed so positive," said Kohler, who finished with 14 total kills. "That was probably one of the best [matches] that we ever played."
In Game 4, Albemarle closed on a 5-0 run, negating the fact that Westfield had turned an 18-16 deficit into a 22-20 advantage. When Deal scored her third and final kill, Albemarle slipped away with a 25-22 win.
Both teams retired to the benches and then returned to the middle of the court to accept their medals. As players wiped tears away from their eyes, Bour summoned Kelly Murray (7 kills, 4 blocks), Sammy Spees (7 kills) and Kat Lanigan (41 assists).
After all, that trio, along with Kohler, Stewart and basically the rest of the Bulldog team, could've folded at any point during this crazy season. But no one did.
Instead, Westfield took its coach along for one wild ride.
"It's my philosophy that the game is for the team, the girls, for the school, for the community. It's not about me, it's their game. [The trophy] is their reward for what they've done," Bour said. "The girls are hurting, but I'm so proud of them. It doesn't change what we accomplished."