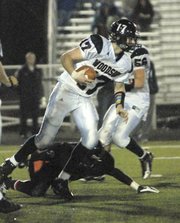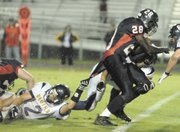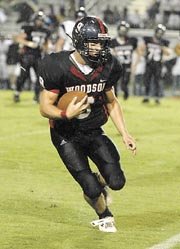 In the moments following a 72-47 defeat at West Springfield last Friday night in the Northern Region quarterfinals, the W.T. Woodson football team had quite a few feelings to sort through.
Sadness and disappointment accompanied the season-ending loss, as did the feeling of utter exhaustion. Those 119 points were the most ever for a Virginia High School League playoff game, a 94-year-old accomplishment that would've made Vince Lombardi cringe.
But the one emotion that did not accompany the Cavaliers' (7-4) fourth loss this season was the feeling that any of this success is about to end. With a strong junior class, W.T. Woodson won't have to rebuild. It'll simply reload.
"I think there are a lot of positives here, especially with the guys that are returning," said coach Trey Taylor, who will see his squad switch to the Patriot District next season. "This is a good group of hard-working kids, and we have a lot to build on for next year."
Part of the reason W.T. Woodson was able to match West Springfield's offensive output for most of three quarters was the emergence of Connor Reilly, a rocket-armed junior quarterback who passed for 319 yards and five touchdowns last Friday.
Reilly moved to Fairfax from Clarksville, Tenn. this past summer and his right arm gave W.T. Woodson's offense an added dimension. On the season, Reilly completed 57 percent of his passes for 1,947 yards, throwing 24 touchdowns and only six interceptions.
The Cavaliers' previous revolving door at the quarterback position was sudden halted, which certainly benefited one of the Northern Region's top receiving threats in senior Max Waizenegger. In his senior season, Waizenegger caught 50 passes for 909 yards and 15 touchdowns, an average of 18.2 yards per catch.
Waizenegger will graduate this spring, but the Cavaliers still return Reilly's No. 2 option, speedy junior Colin Dempsey, who caught 34 passes this season for 469 yards and five scores.
But while Reilly, Waizenegger and Reilly all had statistical seasons that would make any fantasy football owner drool, the fact that those three had the time to play catch every week should not go unnoticed.
<b>WOODSON'S OFFENSIVE LINE,</b> which will return five players with significant playing and starting experience, should afford Reilly with plenty of time to pilot the Cavaliers' offense next season.
The line will return left tackle Tim Herberg, left guard Carson Brown, center Dylan Blankendaal, guard/center Patrick Bulger and right guard Woon Jo, while losing key contributors Alex Cutts and Paul Tunick.
"I think over the year, as we progressed, the line got better at pass blocking," Reilly said. "I got to know my receivers, and I got to know them personally. We became more of a family, and we connected on a different level."
Woodson's road pavers did and will continue to clear the way for junior running back James Johnson, another one of the Cavaliers' heralded returners. The 6-foot, 190-pound Johnson ran for 773 yards and 10 touchdowns this season.
Reilly connected with just about everyone against West Springfield, throwing three scoring strikes to senior Kirk Lewis (139 receiving yards) and two to Waizenegger (six catches, 103 yards). Dempsey caught five passes for 70 yards but sprained his medial collateral ligament around the middle of the third quarter.
With three consecutive touchdowns that stretched from the middle of the third quarter to the beginning of the fourth, West Springfield finally pulled away. Still, W.T. Woodson's efforts didn't go unnoticed.
"You're never out [of a game] when you have a kid that can make plays at quarterback," said West Springfield coach Bill Renner. He knows a thing or two about developing quarterbacks as his son Bryn (2,701 yards, 31 touchdowns) earned a scholarship to North Carolina and has been one of the area's best signal callers since taking over for Oregon State's Peter Lalich in 2007.
"That's why we were so concerned about continuing to score, score, score. They throw the ball well. I really like their receivers. I was really impressed with them. I can see why they were 6-1 in that district, without a doubt. They're tough."