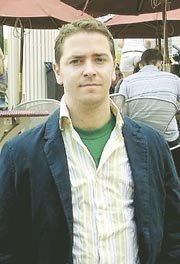 <b>THERE HAVE BEEN</b> thousands of books published about the experience of eating food, but John Schirrippa's new book is about the opposite side of the table.
Schirrippa, a 26-year-old Arlington resident and Mary Washington college alumnus, has written a new book called "What I Do" about his experiences as a waiter in several restaurants in eastern Long Island, N.Y. His book details a hectic day in the life of a waiter trying to serve all of his customers while having a little fun with his coworkers.
<p>In an interview with the Arlington Connection, Schirrippa talked about his book, his opinion on Arlington dining and how he goes to restaurants differently as a former waiter.
<p><b>How did this book come together?</b>
<p>This is my first time writing a book. The story started off as a series of articles [in the Montauk Pioneer]. Each article was an hour in the life of a waiter. It ran for about two summers. I decided to write a manuscript to tie it all together.
<p><b>So you were a waiter when you were writing these articles?</b>
<p>Yes. I waited tables for about seven summers throughout high school and college. I was writing during that time period.
<p><b>You've said that this book is a combination of the movie Waiting and the television show 24. What's the book about?</b>
<p>I'm a big 24 fan so each chapter breaks down an hour in a day in the life of a waiter, pretty much until the time he wakes up in the morning until the after-party late at night. It takes you through the course of a day. You get the lunch crowd; customers are coming in for a light lunch and whatnot. The pinnacle of the story is the dinner rush. It's reggae night so there's live music, there's hundreds of people out on the deck and the scene just gets chaotic with the computers crashing and food getting taken off the menu. It all comes together in the night shift.
<p><b>How much of this book is autobiographical?</b>
<p>Most of it is based on personal experience throughout those seven summers. There's also a small percentage, maybe five or ten percent, resulting from stories I've heard from other people. Most of it is actually true one way or another.
<p><b>How long have you wanted to write a book? Is this something you've wanted to do for a long time?</b>
<p>One of my friends gave me the inspiration. He wrote about his experiences in college at Northeastern. It wasn't something that I'd always wanted to do. Once he put his project together and I had my wheels spinning as far as writing the articles, that's when I really got interested as far as publishing something.
<p><b>How did you go about getting it published?</b>
<p>Basically, I sent it out to about five or six different publishers. I had heard that the publishing process from start to finish can be very time consuming. I was looking to get it out on the shelves as quick as possible so I self-published.
<p><b>What kind of a reception has the book been getting?</b>
<p>It's been extremely positive. … I feel like everybody can relate. A significant percentage of people have worked in the restaurant industry and almost everyone has eaten in a restaurant.
<p><b>What are some of the pitfalls of being a waiter? What are some of the things that a waiter has to deal with that most people don't know?</b>
<p>When people go out to eat their thought process is that "I'm coming here, I'm ordering, I'm not really thinking about the person that's serving the food." The biggest thing is really how to get through dealing with all these different kinds of customers on a daily basis, particularly when it gets busy and there are other factors involved.
<p><b>What's the craziest thing that happens in the book?</b>
<p>There are a lot of pranks that are played behind the scenes, one of which is when a bus boy puts Tabasco sauce in a chef's drink behind his back as the night is winding down. The chef is from a foreign country where they have water pollution problems. He gets personally offended and threatens to kill the bus boy with a knife that's lying around. It turns into a scene and the cops are called and it just escalates from there.
<p><b>Did that actually happen to you?</b>
<p>I was there that night but I wasn't that bus boy. But I was on hand that night.
<p><b>Did you make any really good friends when you were working at the restaurants?</b>
<p>Yeah and that's the really cool thing that I highlight in the book. You make a lot of good friends in the industry and a good percentage of them aren't even from America. They're coming from overseas looking to make some money for their families back home.
<p><b>What do you like about Arlington?</b>
<p>The night life is a big thing. It's a young professional crowd. [Mary Washington College in] Fredericksburg wasn't too bad but there was really only so much they could offer. The networking and meeting people in Arlington has been great.
<p><b>Do you have a favorite restaurant in Arlington?</b>
<p>I like Thai Terrace in Ballston. Mister Days [in Clarendon] is pretty good just as a hang out place. Ri Ra [in Clarendon] is on the list.
<p><b>Do you go to restaurants differently than most people because you have a different experience being on the other side of the table, so to speak?</b>
<p>Absolutely. I like to ask them questions. Every once in a while I'll ask them questions about what's the craziest experience they've had, just out of curiosity. I like to swap stories.
<p><b>Have you ever had an experience where the waiter was really bad and maybe you would have complained about it but you didn't?</b>
<p>That has happened. Other people who haven't been in that experience will kind of flip the handle but I can put it in perspective. Unless it's atrocious. If I'm with a group of people someone else might point out something and I'll be the one to put it in perspective.
<p><b>What would you recommend for someone going into the restaurant industry?</b>
<p>Basically, you've got to have patience. That's one of the biggest things. It's very easy to get overwhelmed in that business. Also you just find something to have fun with it. You can go to work every day but if you're not having fun, if you're not laughing or you're not interacting with people you're working with, it's just work and nobody likes that.