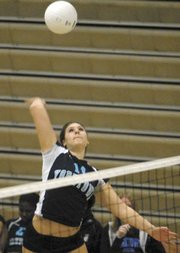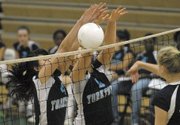 Three games, three wins, another dominating performance from National District Player of the Year Elyse Bush, and a district tournament championship, it all just seemed like another day at the gym for the Yorktown volleyball team.
The Patriots made it look easy last Thursday night, defeating Edison 25-14, 25-22, 27-25, to win the National District Tournament and move onto the Northern region championships next week.
It capped off a dominating district season for Yorktown (12-7 overall, 11-0), which hasn't dropped a game during district play. The Patriots have now won 12 of their past 13 matches, and could be a potential sleeper pick in the region tournament that is expected to dominated by Concorde and Liberty district teams.
Leading the way has been Bush, who had a game-high 17 kills against Edison, two nights after registering 28 kills against rival Washington-Lee in the semifinal round. Known for her all-around game, Bush also chipped in with 13 digs on defense and three aces while serving. For the season, Bush now has a remarkable 332 kills.
But this was no one-girl show. Junior Courtney Duran had six kills and 10 digs, senior Shannon Briggs had four kills, and freshman Ashley Rock finished with five kills and five digs.
After starting the regular season 0-6, it's been the development of everyone around Bush that has coach Britanie Stowell excited.
"I think as our season has progressed, we've gotten a lot more balanced," Stowell said. "I think (Elyse) is a huge presence on the court and we need her to play well to win, but we're definitely a team."
The other district coaches have taken notice, too. Joining Bush as first team all-district was Duran, who had more than 140 digs this year. Senior Libby Kane was also named to the second team.
Still, Bush is the catalyst for it all. When she's playing well, the team responds. It's a responsibility of which she's fully aware.
Against Edison, the Patriots grew lax after winning the first two games of the match. After leading 20-17, the Eagles tied things up at 20 after three Bush slams were blocked, a rare feat.
And while momentum swung back and forth the rest of the way, it was Bush who capped the match off with a cross-court kill for the win.
"It all starts with one play, get a good play, and the team feeds off of it," said Bush. "It's a domino effect."
<b>WITH THE DISTRICT DOMINATION</b> completed, Yorktown now moves onto the much more difficult regional championships. The Patriots went just 1-7 against non-district foes.
But that one win, a five-game thriller over powerful Stone Bridge, gave Yorktown reason to believe it can shock some teams. The Patriots got some validation Monday night when thy easily defeated Madison, 25-13, 25-16, 25-9 to move onto the second round of the northern region tournament.
To pull off some upsets over the area's top teams, though, Bush will need to be at the top of her game. Judging from its dominating showing in the district tournament, she'll also have some unexpected help backing her up.
"I think we're better than a lot of teams give us credit for," Bush said. "If we work together, we can beat some of these really good teams that people don't think we can beat."