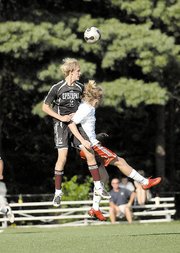 After defeating rivals Woodberry Forest and Flint Hill in the first two rounds of the Virginia Independent School League state championships last week, the Episcopal boys' soccer team sits just two games away from completing an undefeated season.
The Maroon currently sit at 21-0, and play in the semifinals of the state tournament this Friday at 7:30 p.m. The game will be Sportsbackers Stadium in Richmond, Va.
The Maroon won the IAC by defeating perennial power Georgetown Prep twice over a span of three weeks in October.
Episcopal has been led by a well-balanced attack all season after losing dynamic scorer Shadow Sebele to a wrist injury early in the year. In the 4-0 win over Woodberry Forest last week, eight different Maroon players registered an assist or a goal, led by senior co-captain Greg DiNardo's two goals.
<b>T.C. Williams Solid at XC Regionals</b>
The T.C. Williams girl's cross country team turned in a respectable ninth-place showing at last Thursday's Northern Region Cross Country Championships, which were held at Burke Lake Park.
Leading the way for the Titans was sophomore Adugna Desalegn, who finished in 35th-place individually with a time of 19:01. Not far behind was freshman Shannon Smythe, who finished with a time of 19:12. Junior Erika Weidman was also right in the middle of things with a time of 19:19.
<b>Episcopal FB on a Roll</b>
After starting the season 2-2, the Episcopal football team has now reeled off four-straight wins thanks to a 31-0 beat down of Bullis this past Saturday night.
The trio of running back Evan King, wide receiver Hunter de Buts, and quarterback Alex Helm once again led the way for the Maroon. King went over the 1,000-yard mark for the season with a 12-carry, 127-yard, three-touchdown performance. The senior De Buts finished with five catches for 116 yards, including a 43-yard touchdown pass from Helm. All three were on the bench for much of the second half courtesy of a commanding lead.
The Maroon now face their bitter rivals from Woodberry Forest in Orange, Va. Woodberry is 7-1 heading into the contest, so some serious bragging rights will be on the line.