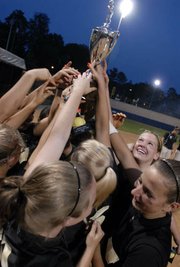 At the beginning of May, the Westfield softball team was mired in a five-game losing streak. After dropping to Herndon, 8-7, on May 2nd, Bulldogs head coach Dean Ferington had a meeting with his team.
"It's not like we were playing bad, we just weren't getting over the hump," said Ferington. The Bulldogs' skipper put the fate of their season squarely his young team's shoulders.
"I haven't changed coaching in 20 years. It's you," Ferington told his team. "It's you and you have to decide whether we are going to change this season or go right down the tubes."
Ferington's squad opted for change and on Friday night celebrated the program's first ever Northern Region title with a win over Herndon, 5-3.
"They worked hard and they worked it out," said Ferington.
The Bulldogs (16-10) entered the season without any expectations – fielding a team comprised of seven freshmen, two sophomores, two juniors and only three seniors.
"At the beginning of the year, I wasn't expecting us to go as far as we did. To make it this far, it's just amazing," said senior catcher Elizabeth Jones, who was a freshman the last time the Bulldogs made it to the Northern Region final.
<b>AGAINST HERNDON</b>, the Bulldog rookies came up huge. Ferington utilized a trio of freshmen pitchers – Alex Tenney, Jennifer Goodman and Jackie Martinez to slow the Herndon offense that scored 19 runs in the first three Northern Region tournament games. The trio combined to hold the Hornets scoreless through the game's first six innings, scattering 11 hits in the game.
Freshman Frankie Martinez delivered the key hit for the Bulldogs in the third inning off of Herndon starting pitcher Katie Rynex, looping a two-out, two-RBI single to right field, scoring freshmen Jackie Martinez and Alex Bohrer.
"I knew that it was a strong [freshmen] class and if we could gel at the right time, which we did… you can't ask for anything more from them," said Ferington.
<b>NOTE:</b> On Tuesday night, the Bulldogs ended their season with a 7-4 loss to Woodside in the Virginia AAA quarterfinals. After a nearly two hour rain delay at Westfield High School, the Bulldogs gave up five runs to the Wolverines in the final two innings.