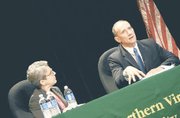 <i>Keeping Shop is a regular feature of the Gazette Packet. To qualify, retail shops should be locally owned or operated; new, expanding, celebrating a significant anniversary or doing something otherwise newsworthy. To nominate your business or another business, contact Mary Ann Weber, editor, Gazette Packet,<a href=mailto: maweber@connectionnewspapers.com>, maweber@connectionnewspapers.com.</a>.</i>
<b>Owner(s):</b>
<b>Maurice B. Silverman</b>
<b>Short bio</b>
I was born in New York City, son of Romanian immigrants. My father was trained as a jeweler in Bucharest. As soon as he arrived in New York he began working for the jewelry trade, mostly with platinum, which had become popular at that time--around 1912. He worked in New York until the early 30's, then, after some searching, we moved to Bridgeport Connecticut
Through the Depression years, whenever I had the chance I watched him make and repair jewelry, first at his bench in our kitchen and later at his own shop, but still geared mainly for the benefit of the retail jeweler. Unfortunately, my interests moved more in the direction of natural history and other things.
At the onset of World War II I was in college, but enlisted in the army after qualifying for Army Specialized Training Program (ASTP). Through this Program I was able to attend the Virginia Military Institute for an all too brief time, I went on to other training and service, which, fortunately, took me to various parts of Virginia making me a devout Virginian.
My first job after the War, and after graduating from George Washington University, was at the Library of Congress, writing abstracts for government sponsored research. I chose the library because of my love of books. I must say I loved working at the library, but there was a certain senator who happened to live a few doors from me on Capitol Hill, who seemed to be on a nationwide witch hunt, even directing his attention to people on his block namely me, which made me uncomfortable, so I started thinking that I might have to leave my wonderful job. As it turned out a store became available directly across the street from the library and I and another library employee rented it almost immediately and opened what we first called Capitol Hill Antiquarians. Later I moved and changed the name to Capitol Hill Antiques. About that time my mother joined me and we emphasized antiques and antique jewelry. After office hours I worked with her almost every day and on weekends. When my office at the library relocated to Virginia (I didn't have to leave my job, after all) I moved the business there and changed the name to Silverman Galleries.
<b>Why did you choose this particular business?</b>
Long time interest in jewelry, art and antiques, and a place for my mother to work.
<b>Why did you choose to work for yourself rather than as an employee for someone else- particularly relevant if answer illustrates the risk taken?</b>
You don't have to answer to anyone except your customers and the tax-collector.
<b>What have you learned from being in business?</b>
It could be both exciting and boring. Examples of exciting : discovering beautiful and interesting things. The challenge of selling something rare and interesting to someone who appreciates and understands how wonderful and unique it is. Example of boring : Being 'on duty' when you would rather be somewhere else. That's why Silverman Galleries is open two days a week and invites appointments the other days.
<b>Share an anecdote of a challenging or humorous experience or biggest surprise learned from working your business</b>
Antiques attract people who are intelligent, imaginative, artistic and history minded, so we meet a lot of interesting people. Many are fun to know, some have become dear friends over the course of so many years that we nearly forget how we met. Last week one friend reminded us that we met in 1958, when, as she said "My mother bought a piece of jewelry from your mother."
A few years ago we found a surprise every morning as we approached the shop : a little pile of twigs and random items such as are typically found on sidewalks, arranged with care in an artistic pattern, in front of the display window. Every morning a different arrangement would appear, apparently the work of a night wanderer who found the objects inside inspiring.
<b>What have been the advantages and/or disadvantages of operating a business in Alexandria?</b>
Advantage : live six blocks from work, in a town steeped in history and charm where you can walk to shops and activities of all kinds.
Disadvantage: So much of the population is transient; many neighbors come and go before we get to know each other. But this is also an advantage because we meet so many people who have lived so many diverse places, and have had so many diverse experiences.
Old Town Alexandria seems to be geared to antiques lovers. A good percentage of new residents and visitors seem to appreciate antiques more and more.
<b>Manager</b>
Angela Silverman, Maurice's wife.
<b>Short bio:</b>
Born in New Rochelle, New York (25 miles north of Manhattan). Italian-American mother, Hungarian-American father; taught by nuns in Catholic schools, kindergarten through high school. Favorite childhood haunts were the dinosaurs at New York's Museum of Natural History and the Egyptian Wing at the Metropolitan Museum of Art. Undergraduate degree in Psychology from State University of NY at Binghamton; took all electives in Art History. Moved to Washington in 1973, recalling that it had many nice museums. From a starting job as "contact lens girl" went on to work 7 years as an optician. Walked into Silverman Galleries in 1982 and never left. Over the years supplemented on-the-job experience with studies to become a Graduate Gemologist (GG, GIA) and appraiser of antiques and antique jewelry accredited by the International Society of Appraisers. (ISA AM). Hobbies include 18th century vegetarian cooking, gardening.
<b>Description of services and/or products:</b>
About half our inventory is antique jewelry, mostly 18th century through 1930's. We work very hard to keep a fine selection of Art Deco diamond rings, especially in platinum. We are very particular that they are originals -- not reproductions-- and in good condition, with quality gems, and especially fine design and craftsmanship. Many of our ring customers find us by referral (ie, from a co-worker who wears a ring they admire) It gives us a particular thrill when we hear -- as we often do --"10 (or 5, or 15, or 20) years ago we purchased our engagement and wedding rings here, now we are looking for something special to celebrate the birth of a child (or anniversary, or next generation engagement ring, etc).
Other jewelry ranges from engraved gems of antiquity (mounted as pendants or rings), archaeological revival and Victorian gold jewelry of the 19th century, and lacy jewels of the early 20th century Edwardian era. We have shoe buckles and other 18th century accessories, which are popular with re-enactors as well as collectors. Currently we have a pair of shoe buckles that belonged to the Maine delegate to the convention that nominated Abraham Lincoln.
The other half is antiques -- including art -- mostly of the 18th and early 19th century. We select things based on what speaks to us in terms of beauty, craftsmanship, and has a story to tell of the time it was made and used. It includes furniture, silver and brass for the table and lighting, glass, ceramics, books and a wide variety of things that were used in daily life, many still usable today.
<b>Professional affiliations/associations</b>
Maurice B. Silverman, president and founder of Silverman Galleries
.Maurice was a member of the International Society of Appraisers for years; in 2002 he opted not to repeat the time-consuming re accreditation process required, and moved into an emeritus status.
<b>Angela Saunders Silverman, GG, ISA AM</b>
GG' means Graduate Gemologist degree from the Gemological Institute of America. The 'ISA AM' indicates an accredited member of the International Society of Appraisers (requiring re accreditation every five years, most recently accredited through 2011). Angela was a member of the Lyceum Company board of directors and membership chair from 1998 through 2007.
Maurice and Angela are also members of the Society of Jewelry Historians (London), American Silver Guild, and Culinary Historians of Washington DC.