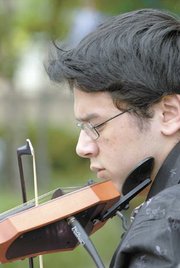 Throughout the McLean, Great Falls and Vienna area, the outdoor summer concerts season is in a full bloom.
This summer, McLean has two venues which host free outdoor concerts: McLean Central Park and the Palladium Civic Place Green. Although it has only existed since 2006, the Civic Place Green is committed to 25 events a year, entertaining the community with events for both children (a clown) and adults (a string quartet). Richard Beltson, one of the organizers of the concerts at the Civic Place Green, says the concerts benefit the community because "they give people a place to take their kids, be entertained. You can sit outside, have a picnic, eat cheese and drink wine." The Palladium Civic Place Green will host these free, outdoor concerts nearly every Saturday of the summer from 6 to 8 p.m.
The bands playing at the Civic Place Green this summer include a mix of music: Marshall Maley, Project Natale, The Seakers, and No Better Off. The concerts at McLean Central Park occur Sundays at 4 p.m., and the entertainers range from Ocean Orchestra (celtic/rock) to Roni Stoneman (bluegrass).
In Great Falls, the Great Falls Village Centre will present Summer Concerts on the Green, Sunday evenings from 6 to 8 p.m. Located at the intersection of Georgetown Pike and Walker Road, the Village Centre offers nine different concerts this summer, from the beginning of June through the end of July.
In Vienna, the concerts on the Town Green, which began in May, will continue through July and August and will include an array of musical genres, from a capella to acoustic rock to folk. "It [the Town Green] provides free entertainment for the people of Vienna … It's local entertainment, it's convenient, easy, and free," said Cathy Salgado, director of the Vienna Parks and Recreation Department.
Bands playing in the upcoming weeks include Marshall Artz (acoustic rock and blues), Dagmar and the Seductones (roots rock), Skyline Vocal Band (a capella), the Kingsley Winter Band (original rock and roll), and Jimmy & Moondi (folk). Concerts on the Town Green take place Friday and Sunday evenings at 6:30 p.m. They are free and open to all ages.
More like this story