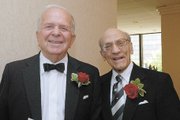 More than 250 Alexandrians created a human mosaic of the city that filled the ballroom of the Crowne Plaza Hotel last Saturday night to honor the founders of Alexandria Senior Services on the exact date of the organization's 40th Anniversary. It was founded by 17 concerned citizens on May 17, 1968.
Four of the five original founders were present to receive the accolades, admiration and heart-felt thanks of their fellow Alexandrians as each of their stories were told in a video presentation as part of SSA's Founder's Ball.
"Tonight we are honoring five visionaries who in 1968 got together and formed Senior Services of Alexandria to meet the needs of elderly citizens," said Janet Barnett, executive director,SSA, in opening the recognition portion of the evening's festivities.
Those honored were Nelson Greene, Nancy Kelly, Mary Ann Ormes, Lewis Stearman and William Vosbeck. Greene and Vosbeck were also presented with a birthday cake to mark their 94th and 80th birthdays respectively. Greene celebrated his day on May 20 and Vosbeck turned 80 on May 13.
In presenting each founder with a plaque, Alexandria Mayor William D. Euille said, "We are so blessed to have had these people in our city."
The all-volunteer group started with a $15,000 budget to provide services and opportunities for elderly citizens who wanted to remain active in the affairs of their community and maintain their individual independent living. Today that annual budget is $850,000 and covers such services as transportation for seniors 60 and over and for the disabled through Senior Taxi; employment counseling, referrals and job placement; Meals on Wheels; and money management.
As noted in the evening's program, "Today the number of Alexandria seniors over age 55 is growing faster than any other age group. Therefore, it is more important than ever to address the existing and emerging issues of seniors and find new ways to secure seniors' ability to remain in their homes, in this community, for as long as possible."
William Greene came to Alexandria, after serving in both World War II and the Korean Conflict, because "a friend told him that Alexandria might be a good place for Greene to open a funeral home and, for the past 55 years, that has proven true."
In 1976 Grene was elected to Alexandria City Council where he served one term. Today he is retired from the funeral home business but remains available to those families "who need his special attention."
Nancy Kelly and her husband came to Alexandria 57 years ago and lived in the same house until this spring. She has spent a lifetime involved in civic activities such as serving as a volunteer member of Alexandria Hospital's TWIG.
While serving as a volunteer coordinator at Hopkins House, she met senior citizens who were seeking ways to continue to contribute to the city. To answer that need Kelly helped write the original federal demonstration grant that financially fueled the establishment of SSA.
Mary Ann Ormes became an Alexandria civic activist in 1954 when she joined The League of Women Voters. She has served on their Board of Directors on several occasions. In 1965 she became a member of The Alexandria Community Welfare Council Board of Directors which was the precursor to United Way of Alexandria.
She worked with Kelly in writing the federal grant proposal which provided seed money for Senior Citizens Employment Service which evolved into SSA. After serving on SSA's Board from 1968 to 1974 she became SSA's executive director, a post she held until her retirement in 1977.
Lewis Stearman, a life-long Alexandria resident, went to work for the Alexandria Gazette newspaper as a delivery boy after his graduation from George Washington High School. He remained with the newspaper for the next 43 years in a variety of capacities that included editor, editorial writer and publisher. He retired in 1983 after compiling the paper's bicentennial edition.
He also was one of the founder's of Senior Citizens Employment as well as a founder of the Alexandria Optimist Club. He began the Optimist's youth program in 1946.
William Vosbeck, originally from Minnesota, came to Alexandria in 1957 to open his architectural firm on Madison Street which grew to be one of the most prestigious design groups in the metropolitan area. The firm was responsible for buildings such as Alexandria's Public Safety Center, the American Trucking Association headquarters, the Duncan Library, and Alexandria Hospital. He also served as the design architect for Yates Gardens in Old Town.
As a founder of SSA he became the organization's second president, succeeding Marion Galland. A member of the Alexandria Rotary Club, he has also served on the Board of Alexandria Hospital.
The other original SSA founders, no longer alive, were: Charles E. Beatley, Jr., Arthur J. Bruner, Mildred F. Councilor, L.H. Dudley, Marion Moncure Duncan, Marion G. Galland, S. Nelson Gray, Leon N. Laylor, Elizabeth C. Macrae, E. Guy Ridley, Annie B. Rose, and Constance Votey.
Loo Katz of WASH FM served as the evening's Master of Ceremonies. The invocation was given by SSA member Dr. George Pera. Dance music was supplied by the T.C.Williams High School Jazz Band under the direction of Vaughn Ambrose. Callie Terrell sang "The Wind Beneath My Wings" in honor of SSA's five remaining founders.