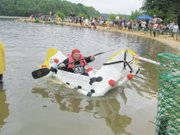 Things have changed a little for this year's Springfield Days, but the cardboard boat regatta is still going full steam ahead.
Corporate sponsorships have renamed family favorites, like the Silver Diner Celebration Station and the Burger King Family Festival at the Springfield Mall, said Tawny Hammond, chair of the event. Springfield Days runs from Thursday, May 29 through Sunday, June 1.
"There's a lot of new things going on this year, including that Springfield Days will now be a four-day event," Hammond said. It is the 21st year for the community-wide festival, with five venues ranging from the Springfield Mall and Springfield Plaza to Lake Accotink Park and the American Legion Post.
Hammond credits a "really devoted steering committee" to the event's success and the wide-ranging activities, including games, family-friendly rides and three bands performing on the entertainment stage in Springfield Plaza.
Two outdoor movies will be shown this year at sunset at Lake Accotink Park. On Saturday, May 31, "Bee Movie" will be shown, followed by "Under the Same Moon," a Spanish-language film with subtitles, on Sunday, June 1.
Hammond said this year's steering committee made an effort to reinforce the family-friendly mantra of Springfield Days, including the decision to prohibit anyone that appears intoxicated from venturing into areas where children may be playing.
"The Family Festival, for example, is geared for families and children," she said. "It will be all kids' rides, all children's games and amusements. There's no reason a parent won't want to go there with their kids, but we've put some strict rules in place to guarantee everyone has a good time."
Plenty of food will be available to purchase this year, including a barbecue on Friday, May 30 from 6-8 p.m. at the American Legion Post on Amherst Avenue.
ON SATURDAY, the annual parade will begin at 10 a.m. As usual, Linda Waller has planned for dozens of dogs to kick off the event with the Paws on Parade march, featuring dogs of all sizes wearing matching, brightly-colored bandanas.
Paws on Parade is sponsored by Felix and Oscar Pet Food Naturally, which donated the bandanas for the first 100 dogs, Waller said.
"I was on the Springfield Days committee for years and kept trying to find a way to do something for dogs," Waller said. "Finally, someone said if you want something so badly, just do it. This is our 8th year leading the Springfield Days parade."
Dogs of all shapes and sizes are welcome, she said, and she cannot remember any incidents of badly behaved pooches in the past.
"Everyone behaves themselves beautifully," she said. "We get some really tiny dogs and some huge monstrous dogs and everyone gets along very nicely."
Pet owners who wish to participate are asked to line up at the intersection of Hanover Street and Monticello Avenue on Saturday, May 31, between 9-9:30 a.m. for the parade, which will embark on its 1-mile journey at 10 a.m.
Also on Saturday will be the Celebration Station at Springfield Mall, featuring a variety of activities sponsored by the Silver Diner and organized by iPlay Childrens' Museum, from 12-6 p.m.
Three bands will perform on the entertainment stage in Springfield Plaza on Saturday afternoon, starting with Junkyard Saints from 11 a.m.-1 p.m.; followed by Deanna Bogart from 1-3 p.m. and finishing with the High Middlin String Band from 3-5 p.m.
"These are really great bands, we're very excited to have them," Hammond said.
The Taste of Springfield will also be going on at the same time, with a variety of local restaurants sampling their wares from 12-6 p.m., also in the Springfield Plaza.
While there, parents are invited to have their child safety seats inspected for proper installation by the Fairfax County Police in front of Buy Buy Baby in the Plaza from 11 a.m.-6 p.m., she said.
THE CARDBOARD boat regatta takes place Sunday, June 1 at 2 p.m., at Lake Accotink Park. The event, a family favorite, includes boats made out of cardboard, duct tape and paint, held together with a little luck, racing around the lake.
"There are some people who come out and take it very seriously and others who try to see how fast their boat will sink," said Nancy-jo Manney, executive director of the Greater Springfield Chamber of Commerce, a major sponsor of the event. "It can get pretty intense but it's always a lot of fun."
Hammond and Manney agreed that Springfield Days is something the entire community looks forward to each year.
"I think what's most enjoyable is bringing together the community and local businesses for a good time," Hammond said. "There is a need for something positive to bring people together and we've done it."
Manney said she is most anticipating the cardboard boat regatta, but enjoys the plethora of activities for all ages over the four-day festival.
"The community has come to expect this," she said. "It's a real community celebration."