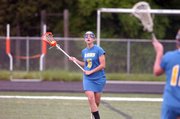 Knotted at 13 in the closing seconds, the Concorde District girls lacrosse championship seemed destined for overtime. No. 2 Robinson and No. 1 Chantilly had battled back and forth since the opening faceoff Friday night at Fairfax High School. Robinson junior Megan Dunleavy brought the game to a sudden end as she found herself with an open shot that found the back of the net just as the final horn sounded.
"I was just running down and I saw Allie [Kimmelman] so I threw it to her, she got doubled and I was just wide open in the center. It was just the perfect set up," said Dunleavy, who scored a game-high six goals.
Robinson (10-3) handed Chantilly (11-1) its first loss of the season and avenged an 13-11 overtime loss at the hands of the Chargers on March 31.
"They are a phenomenal team, we knew it all year. The first time we played them, we got caught back on our heels really early, so we just had to make sure we answered back to everything they did and we did a pretty good job of doing that," said Robinson head coach Alison Neun.
The Rams fell behind early as Chantilly quickly struck twice in the first two minutes of the game but Robinson fought back to gain a 6-5 lead with 10 minutes 43 seconds left in the first half on an unassisted goal by junior Sarah Moody, her second of three on the day. Robinson would not trail the remainder of the game.
"Robinson is an excellent competitor, they are always out to in. This game was [decided by] one point, the last one was two points. It's always neck and neck and Robinson just got this one in the win column," said Chantilly head coach Michele Gates.
The Rams took a 10-7 lead into halftime and survived Chantilly comeback attempts as the Chargers tied the game twice in the second half. Chantilly junior Brittany Griel led the charge in the second half, recording two goals and an assist in the final frame but three second-half goals by Dunleavy and a defense that did not allow a goal for the final 11 minutes of the game gave Robinson the title. Robinson's offense keyed them through the Concorde District tournament as they outscored their opponents, 50-23, in the three victories to take the conference crown. Neun, however, believes that it was the Ram's defense allowed them to claim the title.
"We talked about going into the tournament that the offense wins the games, when you go into tournaments it's the defense that wins the championships," said Neun.