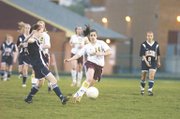 One year after advancing all the way to the Virginia State AA quarterfinals, the Broad Run High girls' soccer team continues to have amazing success.
The Spartans, going into this week's play, were 12-0.
"We're enjoying it," said sixth year, Broad Run coach Claire Collins, of the season. "It has been a lot of fun. The girls are enjoying themselves and playing very well."
Collins said her squad is not concerned about holding on to its unbeaten record. Instead, the Spartans are looking to go out and play their best soccer in every match.
"They're not worried about being undefeated," she said. "They're connecting [as a team] at the right time."
Broad Run is hungry to go further in the playoffs this season. Last year, the Spartans finished with an outstanding 21-3 overall record. They captured both the regular season and tournament titles of the Dulles District, then went on to win the Region II tournament championship with a finals win over Brentsville High.
Ultimately, Broad Run saw its season end against Courtland (Spotsylvania) in an overtime affair that was decided by penalty kicks on Broad Run's home field.
That tough setback has the Spartans, who lost five seniors from that year's squad to graduation, particularly hungry to get back to states this season.
"They're very upset they lost in the quarterfinals to Courtland," said Collins. "So they're trying to make a statement [this season]."
<b>WHILE BROAD RUN</b> remained unbeaten heading into this week, the Spartans received a recent scare when they fell behind two goals to district opponent Loudoun County last Friday night before rallying for a 6-3 road win.
The Raiders jumped out on Broad Run with a couple of goals over the first 20 minutes of the game.
"Loudoun County had so much energy going into the game," said Collins.
The Spartans had not trailed in a game all season before falling behind the Raiders. But they came back to tie the contest by halftime at 2-2, then played a solid second half to earn the come-from-behind win.
"Once we got that first goal we kind of settled down and relaxed," said Collins. "There's a lot of great character on this team. They take the game seriously, but also have so much fun. Everyone is enjoying each other."
Some of Broad Run's top contributors this season are juniors Holly King (center midfielder), Kelly Evans (forward) and Caitlin Hunter (goalie).
Evans and fellow junior Valerie Powell, a forward, are the team's top two scorers this season.
The Spartans' defense has been terrific, allowing just five goals over 11 district games. In district play, Broad Run is 11-0 and has outscored its opponents, 57-5.
"My defense is unbelievable and they're young," said Collins. "They're very solid and play so well off of each other."
Sophomores Brenna Smith and Jenny Taylor (currently injured) have been outstanding defensively, as has freshman Whitney Church. And Hunter, the team's third year starting goalie, has also been superb in the net.
Broad Run has just two seniors on this year's roster in Carina Chavez and Kelly Smith, both of whom are having good seasons.
This week, Broad Run was scheduled to meet non-district, cross-town rival Stone Bridge at home on Monday night. Later in the week, the Spartans were set to play district games against Park View (Tuesday) and Potomac Falls on Friday at home.