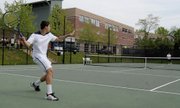 In a busy week for the Robinson boys' tennis teams, the Rams clinched their ninth straight district title, fell to private school power Flint Hill and kicked off the Concorde District singles and doubles tournament.
Last week, the Rams beat Fairfax and Chantilly, both by 8-1 margins, to finish 12-0 in district play on the season. Sandwiched between the two district games, the Rams beat Bullis, 6-3, avenging their only loss from the 2007 season.
The win over Chantilly improved the Rams' four-year Patriot and Concorde District record to 48-0. The district title was also the Rams' 15th championship in 16 seasons.
"Winning begets winning," said Robinson head coach Paul Fisher, who has coached the Rams for 16 years. "It is passed down and they expect to win. They work hard to keep it up."
They begin Northern Region team play on Monday, May 12, when they host Edison, the National District runner-up.
Two-time defending Virginia AAA singles champion, Drew Courtney (University of Virginia), also completed an impressive regular season. The three-time Concorde District champ dispatched Bullis' Sid Balaji, the only player to defeat Courtney in the last two seasons, and easily handled Flint Hill's Zach Pine (Virginia Tech), 6-1, 6-2. Courtney beat the highly regarded Pine last year, 6-0, 6-3.
"He has been playing at a far different level than anybody that I have seen. He is playing at a high Division I level already," said Fisher of Courtney. "His game, since last year, has become so much more sophisticated. I cannot recall any player in Virginia that has played at this level."
Heading into Wednesday's third round of the Concorde District singles and doubles tournament, the Rams have two entries in the semifinals of both the singles and doubles.
Courtney began his senior-year quest with a 10-1 win over Westfield freshman Ankur Bhargava in the first round and, after struggling early, beat Fairfax senior Cezar Constantine, 10-3, in quarterfinal action.
Robinson's Kevin Castellow defeated Anthony Szymczyk of Herndon, 10-1 in the first round and edged Chantilly's Adam Vagner, 10-8, in the quarterfinals to advance.
The Rams' Doug Gallagher prevailed over David Yun of Oakton, 10-1, in the first round and played a classic back-and-fourth match against Fairfax's Jason Luu. After starting out with a 5-2 deficit, Gallagher came roaring back to tie the match at 7-7, but fell to Luu, 11-9.
Courtney played Luu in semifinal action on Wednesday, while Castellow faced No. 2 seeded Sid Balaji of Fairfax.
Courtney and Stephen Hardy, the defending Virginia AAA doubles champs, easily advanced to Wednesday's semifinal round by beating Westfield's Sam Datta and Ankur Bhargava, 10-2, in the first round, and the Bulldogs' Will Datta and Chris Francis, 10-0, in the second.
Gallagher and Billy Nason also advanced to the semifinals by beating Westfield's No. 3 doubles squad, 10-0, in the first round and a solid victory over Fairfax's Constantine and Eric Steinfeld.