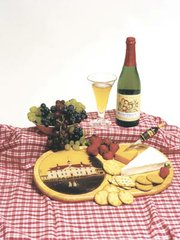 Mount Vernon Estate's 2008 "Wine Festival and Sunset Tour," celebrating the history of Virginia's vineyards and their wines, will be held May 16, 17 and 18, from 6 p.m. to 9 p.m. each evening, rain or shine. Unfortunately, tickets for Saturday night, May 17, are sold out, according to Melissa Wood, media relations associate, Mount Vernon Estate.
"But, there are definitely tickets available for both Friday and Sunday evenings," she said. At a cost of $30 per person, they are available through Ticketmaster, www.ticketmaster.com, or by calling 703-573-SEAT. The can also be purchased at Mount Vernon's Orientation Center.
In addition to individual tickets, private reserved tables seating 12 are available for $750. They may be purchased by calling the Mount Vernon voice mail reservation line at 703-799-8659.
Historic interpreters and colonial-attired 18th-century "friends" of Martha and George Washington will conduct special candlelight tours of the Mansion throughout the evening. The tours also include a trip to the basement's brick vaults where Washington stored his wine. Those vaults and that cellar played a critical role in the last "National Treasure" movie starring Nicholas Cage.
Attendees will learn of Washington's attempts at developing a wine producing vineyard. The tours highlight various wine-related items in the Mansion, such as Washington's spirits case.
Appearances by "George and Martha Washington" are complemented by live jazz on the east lawn overlooking the Potomac River. Visitors are encouraged to bring a blanket and relax on the lawn as they sample wines from 16 Virginia wineries.
To accompany the wine tasting, fruit and cheese boxes, that serve two, are available by advance purchase at $24 each. A variety of hot and cold food and deserts including baguettes, gourmet sandwiches, and specialty sweets will be available in the wine tasting area supplied by the Mount Vernon Inn Restaurant and the Alexandria Pastry Shop.
Neither outside food and beverages or pets are allowed. But, guests can avail themselves of remembrances of the evening by visiting the Shops at Mount Vernon, which will remain open until 9:30 p.m. each night of the festival. Cases of wine purchased at the Wine Festival can be transported by wine valets to the Shops for easy pick up at the end of the festivities.
The Shops feature individual bottles of wine made specifically for Mount Vernon Estate and carry the Mount Vernon label. Those wines are produced by Horton Vineyards and Prince Michel Vineyards & Winery. Horton selections are available in cabernet franc, chardonnay, raspberry, blush, white wine, and Virginia red table wine.
Only a merlot is available from the Prince Michel vineyard under the Mount Vernon label. Prices range from $12 to $19.50 per bottle from both wineries.
Both Horton and Prince Michel will also offer a variety of their wines at the Festival. They will be joined by 14 other award-winning Virginia wineries: AnRhein Wine Cellars, Barboursville Vineyards, Cardinal Point Vineyard & Winery, Chateau Morrisette, Corcoran Vineyards, DelFosse Vineyards & Winery, Fox Meadow Winery, Ingleside Plantation Vineyards, Jefferson Vineyards, Keswick Vineyards, Rappahannock Vineyard, Stone Mountain Vineyards, and Veramar Vineyard.
Guests must be prepared to show identification for wine service. Designated drivers will receive free Coca-Cola at the festival.