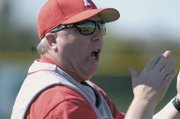 L0319-305
<pc>Photo by Craig Sterbutzel/The Connection
<cl>Park View, coached by Mickey Leap, will need to be strong on the mound in order to make a run at the district.
The Park View High baseball team, under seventh year head coach Mickey Leap, is coming off a 13-8 record in 2007.
Key returning players this season for Park View include: senior catcher Dylan Smith, senior shortstop Billy Bradley, senior second baseman Adam Foltz, senior pitcher/infielder Jimmy Kerby and junior outfielder/pitcher Jonathan Mason.
New comers to the Patriots include sophomore outfielder Drew Mason, junior infielder/pitcher Ben Rosado and sophomore outfielder/pitcher Jonathan Mason.
Park View lost several players to graduation from last year's team that finished second in the Dulles District standings. Those graduated players are Kyle Irish, Matt Griffin, David Laub and Tyler Spurlock.
Coach Leap likes his team's chances to do well this spring.
"We have a very close team that will play hard," he said. "If our young pitching staff competes, we could be in the thick of the district at the end."
The district front runners this season are thought to be Broad Run and Potomac Falls. Broad Run was the regular season champion last year in the district, while Potomac Falls captured the district tournament title.
<b>The Broad Run High baseball</b> team opened up the new season with a 2-1 win at George Mason High School (Falls Church) on March 12.
The non-district game was originally set to take place at Broad Run, but poor infield conditions as a result of rainy weather forced the game to be played at George Mason.
Broad Run senior left-handed starting pitcher Cole Shain threw a strong game, allowing one run (unearned) and two hits while striking out five over 5-2/3 innings. The southpaw got a no-decision.
Gaining the win on the mound for the Spartans was Trey Brocke, who allowed no hits while fanning three over 1-1/3 innings of relief work.
Broad Run broke a 1-1 tie in the top of the seventh inning on a sacrifice fly to right field off the bat of Spartans' catcher Tommy Meier. The fly ball out plated Brocke, who had earlier started the inning off with a single.
Broad Run opened the game's scoring in the top of the fourth inning on an RBI line drive single into left field by senior Adam Luhmann. George Mason tied the game with a run in its half of the sixth inning.
Offensively in the game, Broad Run had six total hits. Two of those base hits came from senior Andrew Mann (double, run scored). Defensively, the Spartans turned a pair of double plays.
"We're glad we got one under our belts," said Broad Run coach Pat Cassidy.
<b>In recent boys soccer</b> action, the Potomac Falls High boys' team handled Manassas Park, 8-0. Potomac Falls' Uche Onyeador scored four goals in the victory. Also scoring for the Panthers were Asa Fox, Cristhian Antelo, Michael Tobin and Alex Borowski. The non-district contest was the season opener for Potomac Falls (1-0), which is coached by Dave Gryder.
<b>The Briar Woods High baseball </b>team defeated Warren County, 7-1, in a recent non-district game played at Briar Woods.
The Falcons, after falling behind 1-0 in the top of the first inning, scored two runs in its half of the second and three more in the second to take a 5-1 lead. The Falcons added two more runs late in the game.
Gaining the win on the mound for Briar Woods was starting pitcher Ian Hickman, who struck out 13 batters over six innings of work. Leading the Falcons' offense were Gavin Scherer, Hickman, and Chris Wade.
It was a breakthrough win for Briar Woods, which was winless last year.
"I'm very excited for the kids who have worked very hard to get this first win of the year, and my first win as the head coach," said Falcons second year coach Josh Mosser.