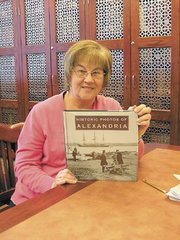 It's a moment in time, captured in faded black and white around 1863. Two men sit on a grassy hill, peering out at the Alexandria seaport where Union ships have docked.
Rita Williams Holtz likes to think of the men as native Alexandrians, loyal to the confederacy. "Maybe these two gentlemen worked, and now they don't have work. Maybe they weren't going to take that oath," she said. "There's poignancy. I love the photo."
This classic panoramic view helps open "Historic Photos of Alexandria," a 216-page hardcover book released earlier this year by Turner Publishing. Written and complied by Holtz and co-author Julie Ballin Patton, this collection of 200 photographs brings the history of Alexandria from its Civil War years through modern times.
"The inception of Alexandria clear up to the present day," said Holtz, who works in the Special Collections section at the Barrett Branch Library on Queen Street. "People think of Old Town, and they think of the seaport, shipping and the founding fathers. They tend to forget that Alexandria went through some hard times. They forget that it was the people who came back here after World War II. Those people came back to Alexandria to live, even though we weren't an industrial area."
The book is filled with images of Alexandrians through the years: Families, soldiers, laborers and others. One of the most startling pictures is that of a young boy — estimated at nine or 10 years-old, according to Holtz — working in a glass factory as a carrying boy. "He looks older than his years, but he's working and he's probably helping his family survive," she said, adding that children would sometimes work the late shift in factories such as this. "A photo like this brings it all home."
THE IDEA FOR the book came from the publisher. One of Turner's editors reached out to Patton, who was working with the Alexandria Library at the time. She and Holtz dug into the library's archive of over 38,000 historic photos.
"We pulled about 500 photos or so for him to approve," said Holtz. The duo would explain and discuss each photo, and gradually it became apparent that they would be the ideal authors for the project. The editor selected 230 photos and had them research them.
"Historic Photos of Alexandria" is split into four sections: Civil War to century's end; Turn of the century to World War I; Economic challenges right before World War II; and then the war years through the 1970s.
The authors were careful not to simply focus on Old Town or the military history of the city that has been covered in previous historic tomes. There's a good representation from Old Town, but Holtz said they "wanted to cover areas that grew out from it."
It all adds up to a thorough look at the gradual cosmetic alterations in Alexandria over the last two centuries, featuring landmarks from the George Washington Masonic National Memorial to Potomac Yards.
"It gives people an idea of how the landscape has changed,"" said Holtz.
FOR EXAMPLE, one photo highlights the 100 block of Prince Street — Captains Row, circa 1924. There is a ferry building on the waterfront that's long gone; same goes for the milling company building near rows of houses on the street. Holtz said the corner building in the picture is now The Christmas Attic.
"That's the neat thing. People can take this photo, look at it and say, 'Wow, does it look like that today?'" she said.
"Historic Photos of Alexandria" retails for $39.99, and is available wherever books are sold. Call the Barrett Branch Library at 703-838-4555 for upcoming events involving the authors.
Holtz said she and Patton were thankful for the support of the library and the city's various historic museums and associations in creating their book. In the end, Holtz said, they owned their ultimate debt to the very subject of their book: Alexandrians.
"People who have lived here all of their lives, and they bring us books, bring us maps [at the library]," she said.
"Those people are the ones that really deserve to be thanked."