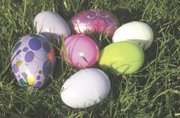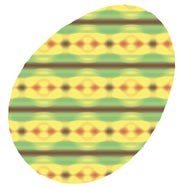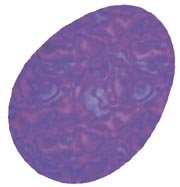 Thursday, March 20
Eggs Galore: children ages 3 to 8 participate in eggs-citing lawn games, storytelling and nature hikes. $5 per child, reservations required. 9:30-10:30 a.m. and 11 a.m.-noon at Cabell's Mill at Ellanor C. Lawrence Park, 5040 Walney Road, Chantilly. Call 703-631-0013.
Saturday, March 22
Community egg hunt for students in preschool through sixth grade, 10:30 a.m. at Southview Baptist Church, 2620 Reston Parkway, Herndon. Call 703-860-8800 or visit www.southview.org.
Easter egg hunt, for children ages 1-9. Eggs, candy, prize drawing and a special appearance from the Easter bunny. Rain or shine. $6 per child, day-of registration only beginning at 10 a.m. Bring a basket. 11 a.m. at Nottoway Park, 9601 Courthouse Road, Vienna. Call 703-324-8566.
Old Fashioned Egg Fun: children ages 2 to 9 hunt hand-dyed eggs, make a craft and meet the Easter bunny. $6 per child, reservations required by March 19. 1-3 p.m. at Colvin Run Mill, 10017 Colvin Run Road, Great Falls. Call 703-759-2771.
Easter Festival. Three egg hunts each day with an Easter basket prize to one child each hunt. Free face painting. Photos available with dressed-up Easter bunny or live bunnies, lambs and baby chicks. 9 a.m.-4 p.m., last admission 3 p.m., at the Reston Zoo, 1228 Hunter Mill Road, Vienna. Continues Sunday, March 23. Call 703-757-6222 or visit www.restonzoo.com.
Spring Eggstravaganza: a puppet show, stories and crafts highlight the blooming of spring. Children age 4 and older can discover the natural and cultural history of eggs. $5 prepaid reservations required. 1-2 p.m. at Hidden Oaks Nature Center, 7701 Royce St., Annandale. Call 703-941-1065.
Sunday, March 23
Children's egg hunt, 10 a.m. at St. Francis Episcopal Church, 9220 Georgetown Pike, Great Falls. Call 703-759-2082 or visit www.stfrancisgreatfalls.org.
Easter Egg Hunt and Sunday School, 9 a.m. at Great Falls United Methodist Church, 10100 Georgetown Pike, Great Falls. Call 703-759-3705 or visit www.greatfallsumc.com.
Easter Festival at the Reston Zoo, 9 a.m.-4 p.m. Begins Saturday, March 22.
Monday, March 24
White House Easter Egg Roll. Egg hunt, a visit with the Easter bunny, storytelling and other activities on the White House South Lawn and at the Ellipse Visitor Pavilion. Free tickets will be distributed at the Ellipse, 15th and E streets, NW, beginning at 7:30 a.m. Saturday, March 22. Tickets are timed for entrance, event takes place 8 a.m.-2 p.m. at the White House, 1600 Pennsylvania Ave., NW, Washington, D.C. Maximum of five tickets per person, groups must have at least one child under 7 and no more than two adults. Call 202-208-1631.