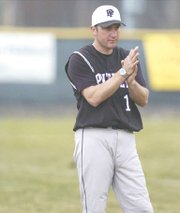 The Potomac Falls High baseball team experienced a storybook season last year. Following a slow start to the season, the Panthers came on strong and ultimately captured the championship of the Dulles District tournament with a finals win over Heritage.
Potomac Falls, which finished 16-9 overall last year, went on to defeat Louisa County in a round one game of the Region II playoffs before seeing its season end with a second round loss to Waynesboro.
The Panthers had a tremendous season from first baseman Aaron Sweger, who batted .504 and was named the District Player of the Year.
Sweger and a number of other players from the '07 team are back this season for Potomac Falls, which lost only three starters to graduation.
"He's a very determined player, and a focused player," said Potomac Falls coach Joe Terango, of Sweger. " He can hit at important times and can swing with guys on base."
Other key position players who are returning to the starting lineup this season are senior center fielder James Wagner and versatile senior Patrick Nightingale, who can pitch, play infield or outfield, and serve as DH.
"He's an all-around player," said Terango, of Nightingale.
Playing infield positions will be junior third baseman Robert Malan, a Second Team All-Dulles District selection last year, and junior shortstop Greg Woodlief.
Woodlief brings numerous positive attributes to the team.
"He's good at everything," said Terango, with a chuckle. "He really likes to play. He's real quick in the infield, determined and has a good arm."
Woodlief, who bats left handed, will hit in the leadoff position.
THE TEAM'S CATHCERS will be junior Mike Spring, the returning starter at the position, and junior Chris Belto, who will serve as backup.
Other players to watch include junior left fielder Chad McMichael, right fielder Eric Bimsey and junior second baseman Jake Orpin.
The team's No. one pitcher will be right hander James Kline, who won eight games last year. He was the winning pitcher in the district title game victory over Heritage.
"He's more of a finesse pitcher," said Terango, of Kline. "He locates three pitches for strikes, throws the ball down low and hits his spots."
Mike DeTaranto, a junior right hander who, while not overpowering, locates three pitches well, will hold down the No. 2 spot in the rotation. Both Brian Griffin and Mike Fahey will also serve as starters.
Coach Terango believes his team's strength will be its defense. The Panthers open up the new season this Friday night with a 6 p.m. home game against non-district opponent Manassas Park.