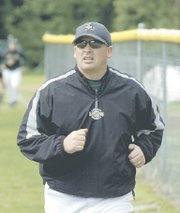 The Langley High baseball team is loaded with numerous talented players this season. But for the Saxons' potential to be realized, Langley must have a team-first mentality.
"We're going to have to have continuity and chemistry," said eighth year Langley coach Jeff Ferrell. "I have 14 kids who could start. With that will come [position] competition, so the team will have to come first."
The Saxons are coming off a successful 2007 season in which they made it all the way to the Northern Region tournament semifinals before losing to South County. Langley won region playoff games over both Yorktown and Robinson to reach the round of four. For the season, the Saxons ended up going 17-7.
Several key players are back from last year's team, including senior shortstop and relief pitcher Foster Dunigan. A year ago, Dunigan was the team's No. 3 hitter in the line-up and earned All-District, All-Region and All-Met accolades.
"He's a good hitter, outstanding fielder and he leads by example," said Ferrell.
Another key member of the Saxons' infield will be senior first baseman Eddie Gonzalez (7 homers last year), a First Team All-District selection in 2007.
"He hits the gaps and allies," said Ferrell, of Gonzalez' prowess at the plate. "When he hits the ball, he hits it hard."
Jack McLindon, who was a part of the Langley High basketball team that finished second in the region and qualified for the state playoffs, will play second base for the Saxons this spring.
The team's top returning outfielder is senior center fielder Daniel Burgamesca, a leadoff hitter who gets on base frequently and has good speed.
LANGLEY'S PITCHING ace will be left-hander Joey Zarella, a junior who earned First Team All-District and Honorable Mention All-Region accolades last year.
"He's got a mean out pitch, which is his splitter," said Ferrell, of the southpaw. "He can get inside on righties. He has a good tailing fastball. He has a good pickoff move and a good mound presence."
Langley's two other starting pitchers will likely be Jody Davis, a three year letter earner, and junior Barrett Hunter, who played on the Saxons' hoops team.
Langley's catcher will be steady Jeremy Mahn. Ferrell said one of his team's strengths will be its defensive talent up the middle of the diamond with Mahn (catcher), Dunigan (shortstop), McLindon (second base) and Burgamesca (center field).
"Our strength is up the middle with those four guys," said Ferrell.
Over the years, Langley had made early season trips to such locations as San Diego, Myrtle Beach, Phoenix and Bradenton, Fla. This week, the Saxons are preparing for the new season in Orlando. Ten teams from the Northern Region, in fact, are honing up their skills there as well.
Those local schools include Madison, Westfield, Chantilly, Centreville, West Springfield, T.C. Williams, Woodson and South County.
Upon arriving home, Langley will play its first game the Friday after Easter when it travels to Thomas Jefferson High in Alexandria.
The McLean High baseball team was so close to making big waves during last year's postseason. The Highlanders, after a first round victory in the Liberty District playoffs, lost a tough 6-4 game in extra innings to Madison in the district semifinals. Then, in a first round game at the 16-team, Northern Region tournament, the Highlanders saw their season end with a 2-1 setback to Loudoun Valley, a game that was also decided in extra innings.
This year's squad, which has a good mix of experience and young talent, will work hard to try to improve on last year's 12-11 overall record. Competing in the always tough Liberty District, the Highlanders will be going up against some of the best high school teams in the state.
"I think that having as many new kids as we have and being in the Liberty, we'll tale our lumps sometime [during the season]," said third year McLean coach John Thomas. "By the postseason, I want to be playing our best baseball."
McLean has a talented, young pitching ace in right hander Sean Fitzgerald, a sophomore who went 5-4 with an impressive 2.07 earned run average last year as a freshman. "I think he has a tremendous amount of movement on his fastball," said Thomas, of his No. 1 starter who earned All-District Honorable Mention honors. "He has a great two-seam fastball and he keeps the ball down in the strike zone. He's becoming more of a power pitcher. He's just tough [on the mound] and he competes."
When Fitzgerald is not on the hill, he will be playing the shortstop position for McLean.
ANOTHER KEY STARTING pitcher for the Highlanders will be senior Quinn Tippin, who did not pitch as a junior last year. Instead, Tippin was McLean's fulltime third baseman in 2007 where he made Honorable Mention All-District.
"He will pitch this year for the first time," said Thomas, who said Tippin will continue to play the hot corner position when he is not on the mound.
Tippin has started at third base the past two years.
"He's outstanding defensively at third base," said Thomas. "He's a very talented player offensively. He started to put things together [at the plate] over the second half of last year."
Thomas said Tippin batted over .400 during the second half of the season last spring. A left-handed batter, Tippin will hit at the No. 2, 3 or 4 spots in the lineup.
Another key returning player is sophomore pitcher/catcher Denis Buckley, who batted .327 and earned Second Team All-District recognition last year as a freshmen.
"He proved as a freshmen he's a very good hitter," said Thomas.
This Friday, McLean will open up the new season with a game against Freedom High School of Woodbridge. The game will be a part of the `Let's Play Two Invitational,' which is being hosted by Osbourn Park High School in Manassas. The McLean-Freedom game will take place at Osbourn Park.