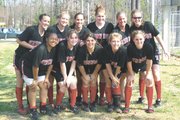 The outlook appears bright for the Herndon High girls' softball team this spring. The Hornets, under veteran coach Bonnie O'Hearn, will have eight returning seniors on their roster this season.
Last year's Herndon squad reached the Concorde District tournament semifinals where it lost to Centreville. Then, at the 16-team Northern Region tournament, the Hornets, as the No. 4 seed from out of the Concorde, defeated Patriot District top seed South County in a first round game. That put Herndon into the quarterfinals, where it saw its season end with a quarterfinals round loss to eventual region runner-up Stone Bridge.
"We played real well together as a team," said O'Hearn, of last year's squad. "Our defense was much better than in year's past and our offense hit better."
This year's Herndon team, with most of its starting lineup back, will, in all likelihood, be highly competitive as well.
The Hornets will be led by senior returning starting pitcher Katie Rynex.
"She has good speed and control," said coach O'Hearn, of her mound ace. "She does a great job keeping batters [in check]."
Another senior who will play a key role for Herndon is co-captain Katie Briggs, who will see time on both the pitching mound and in center field.
O'Hearn feels good about her team's chances with either Rynex or Briggs on the pitching mound.
"Both of these girls are four year starters and have great knowledge of the game," she said.
Handling shortstop duties will be senior Marra Hvozdovic, a returning starter.
"She's very quick and has a strong arm," said O'Hearn, of Hvozdovic's defensive prowess.
During a recent scrimmage game against Langley,
Hvozdovic fielded a ball before, from her knees, making an impressive throw to first base to throw out a Saxon batter.
HERNDON IS SCHEDULED to open up its new season on Wednesday of this week with a non-district home game against Dominion High of Sterling. Later this month, the Hornets will travel to Richmond over spring break to take part in the Sports Plus Tournament.
O'Hearn is confident that her team can put together a strong 2008 season.
"We only graduated one permanent starter," said the coach. "I think we're very positive about things. The girls have played together so long and we're hoping this will be our year."
The South Lakes High girls' softball team is under new leadership this spring with former Seahawks' assistant Tino Impellizzeri now at the helm of the program.
Over the preseason, Impellizzeri has talked to his ball club about approaching the spring campaign with a positive mindset. The Seahawks have struggled to win games in recent years (two wins over the past three seasons), and their new coach wants them to believe things can turn around.
"We've had several meetings and discussions," said Impellizzeri. "We're preaching positive attitudes and starting a whole new program. We're trying to fight that losing attitude. I've been very excited with how they've responded to the coaches. For the juniors and seniors on the team, I'm hoping they can finish their careers with a good experience."
Impellizzeri's coaching staff this spring is made up of assistants Michael Collins (JV coach), John Lyons (varsity assistant), Jason Conroy and Katy Whitman (JV assistant).
Impellizzeri, who owns Lucia's Italian Ristorante (Fox Mills Shopping Center in Herndon), has been a Reston resident the past 20 years. He has coached Little League baseball and house league softball over the past 10 years. He was hired as the new South Lakes coach earlier this winter and is excited about the challenge of turning around the fortunes of Seahawks' softball. A daughter, junior Katy Impellizzeri, is a third-year varsity player for South Lakes and will play catcher for the Seahawks this season.
South Lakes' starting pitcher this spring will be senior Jordan Foster, who has pitched each of the past three seasons for the team.
"She's showing more improvement and we're hoping our better defense will help her this year," said coach Impellizzeri, who added that the pitching ace will also need good run support from the offense. "She's very consistent. She does not walk too many players. She's got a good head on her shoulders and she's a good, young ball player who has stuck in there during hard times at South Lakes."
A key position player for the Seahawks will be senior first baseman Chalsea Huber, who did not play last year because of a shoulder injury.
Two talented freshmen players should give the program a nice boost this season in Nina Rodriguez (center field/shortstop) and Alyssa Siqueiros (third baseman).
"Those are two freshmen who will start," said Impellizzeri. "I'm hoping to build the program around them [over the next few years] because they are going to be excellent."
South Lakes' three tri-captains this season are Foster, Katy Impellizzeri and Huber.