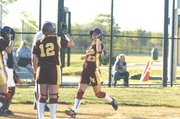 Winning a state high school girls softball championship is one thing. But doing so by going unbeaten through a long, grinding regular season schedule, followed by numerous postseason games, is practically unheard of.
But that is what the Broad Run High team accomplished a year ago when it finished with a perfect 29-0 record in capturing the Virginia State AA title.
"It's easier to win the state title then to go undefeated," said Broad Run coach Ed Steele. "Last year, we had it all [with] our pitching, defense and hitting."
The Spartans, who defeated New Kent, 8-0, in the state title game win behind a no-hitter from ace pitcher Caitlyn Delahaba, had two close games all season long. The first came in the team's regular season finale against Park View when the Spartans scored three runs in the bottom of the seventh inning to win the game and chinch the Dulles District season title. And the second came in a 1-0 state semifinals playoff win over Tunstall High.
For the season, Broad Run outscored its opponents, 276 to six.
What must really be scary for Broad Run opponents for this upcoming spring season is that the Spartans have almost everybody back from last year's dominating squad, including Villanova University-bound Delahaba (28-0 last year with 400 strikeouts).
Delahaba, a Second Team High School All-American selection last year as a junior, walked just 16 hitters in 2007.
"She's very fast and the ball moves," said Steele, breaking down Delahaba's dominance into its simplest form.
DELAHABA is just one of five current Broad Run players who has already earned a NCAA Div. 1 scholarship. The others are two-time All-Met first baseman Karla Powell (Wisconsin), All-Met outfielder Ashley Kramer (Longwood), second baseman Michelle Clohan (James Madison) and junior pitcher/outfielder/first baseman/third baseman Judy Betz (Wagner College).
Kramer, an outfielder last year, will be the Spartans' shortstop this spring. The Broad Run leadoff hitter is coming off a junior season in which she batted .596 with 32 RBI and three home runs. The speedster also scored 48 runs.
The versatile Betz, who will undoubtedly be the team's starting pitcher next year when she is a senior, is coming off a sophomore campaign in which she earned All-District honors as an outfielder. This season, she will see pitching innings when Delahaba needs a rest.
"She's a great player, a really unselfish player," said Steele, of Betz.
The coach said his team, made up of numerous seniors, is highly motivated to win each game. The primary reason for that goes back to the 2006 season when Broad Run saw its bid for a perfect season washed away with a loss to Powhatan High at the state semfinals. Broad Run finished that season 26-1. The seniors on this year's squad were sophomores then, and they have not forgotten the sting of that defeat. That 2006 playoff loss motivated Broad Run last year and continues to motivate them now.
"That [loss] has never gone away," said Steele. "They just did not have that seriousness [going into the game with Powhatan] they have now. They are very relaxed [going into this season], but they are motivated by never getting embarrassed and losing. That's truly the making of a champion."
Broad Run opens up the new season on March 25 at Briar Woods.