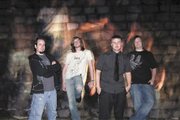 When a local band gets to a certain point in its life, the band members have to start to look for other locations to spread their music. Sometimes this leads to self-booked tours and out-of-town shows.
"We're trying to branch out," said Dave Wernli, Cerca Trova's bassist. "We have a show coming up in Richmond and we're trying to get stuff lined up in Baltimore and Philly."
"Our songs sound like other bands," said Wernli. "The songs really remind me of Incubus, Red Hot Chili Peppers or Foo Fighters. They could be like B-Sides.
"Almost all of our songs are completely different. It's really hard to put us in a genre, I feel," said singer Jordan Waddell.
Drummer Josh Cockrell and Angelo Soares, guitarist, met during their junior year at Chantilly High School and they started what would become Cerca Trova. "We used to be called Second Nature, when we first started out," said Cockrell. "But there were trademark issues. So we changed our name to Cerca Trova."
Cerca Trova means "Seek and you shall find" in Italian, it was also Leonardo DaVinci's last words.
The members of Cerca Trova don't take themselves too seriously, they have fun while they make their music. Whether it's using a megaphone to talk to pedestrians while they on their way to their show, or playing what they call "urban golfing" in the Chantilly area, laughing is a must.
"Whenever we go out for shows, we want to change people's lives," Cockrell said.
"We want to be the talk at the dinner table," Waddell said.
Waddell and Cockrell got their start in music through Fairfax County Public Schools. Waddell sang in church and a school choir growing up, which is how he met Cockrell. Waddell's choir director was Cockrell's father, Glenn Cockrell.
Cockrell also did choir at a younger age. "Once it came time in elementary school to choose an instrument to play," he said. "I picked drums, because I always wanted to play drums. I had little bongo sets when I was a kid."
"I played trombone from fifth grade to 12th grade," said Wernli. "I picked up the bass during my freshmen year. My friends and I were starting a band and they played drum and guitar, so I naturally picked bass."
"When I was little, my dad was in rock bands, he was a drummer, and I just watched him," said Soares. "I would watch him play Jammin' Java and just admire him. One day, he was playing his Alvarez guitar and I asked him to teach me to play, so he taught me some songs. I played for his band back in the day."
Soares is the only member of Cerca Trova that has not had formal music lessons or performed with a formal group in school.
Wernli joined the band in February, becoming the group's fourth bassist. Wernli used to play with Soares' father, Gene Soares. When Cerca Trova needed a bassist, Soares' father recruited Dave.
ALL FOUR members of the band are involved in the writing process and writing the lyrics. A member doesn't write a song and tell other members how to play it. Instead, one brings in an idea or a section of a song and, as a band, they shape a song around the idea. Most of the lyrics are about what is happening in a member's life at the time they write the lyrics.
Though the guys like to make jokes and have fun, they are serious about spreading their music and making Cerca Trova their career. As well as being serious about their music, they also can use their band for a positive means. The band played a Darfur awareness show a couple years ago. Also, their song "Resolution of 1706" is about the situation in Darfur and reminiscent in sound to Rage Against the Machine. "Eventually, we want to give back to the community." Waddell said.
"The whole music thing is easy," he said. "It's the exposure and the other things that goes with it, that nobody really sees. It's really hard."
"We're also looking forward to getting signed," Cockrell said.
"We want to not have to do all the things that we don't like to do in the business and just play our music," Waddell said.
Band members cited Soares' mother, Robin Popovich, as being a big help to their band and supporting them. The band is currently looking for a manager to take them to the next level of stardom.
"We've been looking forward to finishing our album for the past year," Cockrell said. All of the 14 songs have been recorded and the tracks are just waiting to be mixed and mastered. The full-length release is scheduled to be finished and released sometime this summer. Cerca Trova is planning on playing a release show at Jammin Java in Vienna.
Besides playing surrounding cities such as Richmond, Washington D.C. and Baltimore, Cerca Trova will also be playing at T.T. Reynolds in Fairfax on June 28 and at Jaxx in Springfield on Sept. 30. For concert dates or to listen to Cerca Trova's music, visit www.myspace.com/cercatrova or www.cercatrovarock.com.