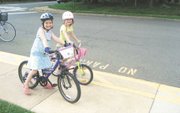 During the last week of school, June 9-13, Louise Archer Elementary School launched its Walk and Bike to School Challenge in which students were encouraged to travel to school either on foot or on a bike.
"This is something that our school and PTA wanted to do to promote exercise and making healthy choices," said school principal Michelle Makrigiorgos. "In addition, this helps to display our commitment to creating a community atmosphere by walking through the neighborhoods to the school."
During October, the school had a similar week in which students were challenged to travel to school on their own. The PTA and faculty are hopeful that their most recent attempt in June will continue to heighten student awareness and help to promote good exercise habits over the summer.
"I think this week was a really good idea, but the school should do it for a whole year instead of just a few days," said fifth-grader Maaike Van Woreden. "I ride my bike to school every day for exercise and because it is good for the environment."