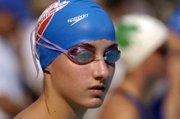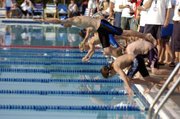 With 126 swim teams in 21 divisions and made up of thousands of swimmers, the Northern Virginia Swimming League and the Colonial Swim League are making sure that Saturday mornings around Northern Virginia begin in the pool.
The NVSL houses 102 competitive swim teams, spread out in 17 different divisions throughout Fairfax County, Arlington and Alexandria. The more developmental CSL sports 24 competitive teams throughout four divisions, drawing mostly from Fairfax County and Loudoun County.
"The excitement level is really up," said CSL President Bobby Winterbottom. With most teams conducting their time trials last Saturday, both leagues will kickoff their 2008 dual meet season on June 21.
"They have been practicing now for two weeks so the kids are really fired up and ready to get in there and start swimming against somebody else," said Winterbottom.
Both league's seasons will culminate on August 2, for their Individual All Stars meet.
"It is a short season, but it is a really intense season. The kids are out of school and everybody is very excited, especially for that very first meet," said NVSL publicity chairman Keenan Goldsby.
Founded in 1956, the NVSL's mantra is, "A love for the sport, advanced aquatic skills, teamwork, and the principles of good sportsmanship."
Winterbottom takes the same approach when speaking of the CSL's goals this summer.
"We try to teach them good sportsmanship and get them ready for bigger things," he said. "If they want to continue with swimming, they are getting all the knowledge and the experience to continue on."
Notable recent NVSL and CSL alumni include Kate Ziegler, 19, who broke the 1500-meter freestyle record last June, the longest standing world record at the time. Ziegler, a four-time World Champion, is favored to win gold at the 2008 Olympic Games in Beijing. Suzanne Schwee, a CSL alumna who graduated from Stone Bridge High School this year, will swim for the University of Alabama and has posted top-20 times in butterfly and backstroke. Recent Lake Braddock grad Ashley Danner, considered a top ten swimmer, started in the NVSL and will swim for George Mason.