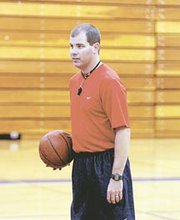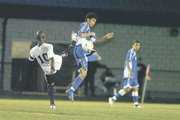 Jeff Schneider recently stepped down as head coach of the Park View High boys' basketball team.
Schneider, who led the Patriots for the past four years, made the decision to leave the program because he and his family have decided to move to Greensboro, N.C. this summer. His wife, Beth, is a college professor.
Schneider said he has accepted a teaching position at Northern Guilford High School, located just outside of Greensboro. He will teach AP World History, as he has done in recent years at Park View.
"My wife and I felt it was the right time for our family to move at this time," said Schneider.
The couple has two sons.
Schneider, who informed Park View of his decision on May 30, said he will not coach basketball next school season as he gets adjusted to his new surroundings and job. But he hopes to get back into coaching again, perhaps the following year.
"I'll take a year or two off," he said, in regards to coaching. "I see myself getting back into it eventually. If you really love coaching, it's hard to get away from it."
Schneider said the most difficult part of the move for him will be relinquishing his duties as the Park View head coach. Over his four years at the helm of the program, he built the Patriots into a strong Dulles District contender. Last winter, Park View was 16-7 overall and finished in a second place tie in the regular season district standings.
"That's the toughest part of the decision, to move," said Schneider, of stepping down as coach. "We had the program going in the right direction. But we have a great group of guys coming back. And good talent is coming up through [Sterling] Middle School. It's tough to leave knowing we have success going."
Park View is losing several key starters from last year's team to graduation, including Thomas Mulabah, Danny Foley and C.J. Leizear. The Patriots' 2007-08 season ended last winter with a 64-54 district tournament semifinals loss to Potomac Falls.
Park View was 6-17 overall and sixth in the eight-team Dulles District in Schneider's first season as head coach four years ago. But the Patriots improved to a fourth place district standing the following season.
Then, in Schneider's third season (2006-07), Park View went 19-6 and finished third in the district. The Patriots reached the district tournament finals that season and qualified for the Region II playoffs.
The Patriots were looking to qualify for regionals again this season but that goal fell short with the season-ending loss to Potomac Falls in the tournament semis.
"We worked to turn the program around," said Schneider. "Park View is now in the discussion every year when people are talking about who is in the running for the district in basketball."
Schneider and his family currently reside in Purcellville. He said they will list their house and try to move before the summer is over in order to enroll their boys in school.
The posting for the Park View basketball coaching vacancy was listed earlier this week. The posting will last two weeks followed by interviews, meaning it will likely be at least a month before a new coach is named.
<b>The following schools</b> captured Virginia State Championships this spring season:
AAA Baseball
James River High School
(James River 10, Colonial Forge 0)
AAA Softball
Hickory High School
(Hickory 4, Battlefield 2)
Girls Lacrosse
Oakton High School (Oakton 20, Chantilly 11)
Boys Lacrosse
Chantilly High School
(Chantilly 12, Oakton 5)
AAA Boys Soccer
Deep Run High School
(Deep Run 1, Robinson 0)
AAA Girls Soccer
Robinson Secondary School
(Robinson 2, Battlefield 1)
AAA Boys Tennis Team
Robinson Secondary School
(Robinson 5, Mills Godwin 4)
AAA Girls Tennis Team
Mills Godwin High School
(Mills Godwin 5, Jefferson 1)
AAA Boys Tennis Singles
Drew Courtney, Robinson Secondary School
(Courtney def. Fraser)
AAA Girls Tennis Singles
Katie Blow, Mills Godwin High School
(Blow def. Pappas, 6-4, 6-1)
AAA Boys Tennis Doubles
Drew Courtney/Stephen Hardy, Robinson Secondary School
(Courtney/Hardy def. Parker/Calhoun, 6-4, 4-6, 6-0)
AAA Girls Tennis Doubles
Katie Blow/Nicole Parker, Mills Godwin High School
(Blow/Parker def. Li/Shames)
<b>Virginia Elite Volleyball Club</b> swept the 18, 17 and 16 year old divisions of the East Coast Volleyball Championships held in Pittsburgh, PA over Memorial Day weekend. Virginia Elite 18s won the Beast of the East Competition with a 6-0 record against the east coast's toughest competitors, while Virginia Elite 17s won thrilling matches against strong opponents to claim the gold in the 17s Championship Division title. Meanwhile, Virginia Elite 16s faced tough competitors from Canada, Indiana, Pennsylvania, and Ohio but remained undefeated with a record of 9-0, wining the gold medal in 16s Championship Division. Virginia Elite 15s also brought home gold Memorial Day weekend by winning the 15s Division at the South Atlantic Championships held in Richmond, VA. All four Virginia Elite teams will represent the Washington, DC Metropolitan Area at the US Volleyball Association National Championships in Dallas, TX, June 26-July 5, 2008.
"This week, our teams won four championship titles through hard work, dedication and teamwork," said John Teifer, College Recruiting Director for Virginia Elite. "The competition was extremely tough, but all of our players' hard work paid off. We're incredibly proud of all of our players and coaches and their championship achievements."