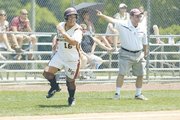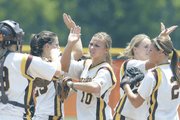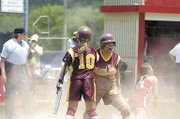 The only real suspense surrounding the Broad Run High girls' softball team's run to its second Virginia State AA title last weekend in Radford was how the girls would react when they got the final out in the title game.
Yes, the championship weekend was historical, spectacular and dominant for the Spartans, who completed their second straight spring season with a perfect 29-0 record and a state title.
But it was far from suspenseful as Broad Run simply did what it has been doing all season long – taking care of business.
The spectacular Spartans, under head coach Ed Steele, advanced to the state tournament's final four by defeating New Kent High High (Bay Rivers District), 3-0, in a quarterfinals round game played in Ashburn on June 2. That win advanced Broad Run to the semifinals, which took place at Radford University last Friday. There, the Spartans easily handled Salem High (Virginia Beach), 8-0, to qualify for the following day's championship game. And in that finals game on Saturday afternoon, Broad Run made school history with a 4-0 triumph over Tunstall High (Dry Fork), securing its second consecutive state crown.
When the championship game's final out occurred – a ground ball to senior first baseman Karla Powell, who fielded the ball before trotting over to put her foot on the first base bag to end the game – the Spartan players naturally jumped for glee and congratulated one another on the college softball diamond's infield. But there was not that spontaneous, `I can't believe what just happened' kind of reaction, because, to a player, the Broad Run girls had envisioned themselves winning a second state championship way back at season's beginning in April.
Throughout the state tournament, there was never really a doubt as to Broad Run's dominance as Steele's squad outscored its oppponents, 15-0, over the three games.
"It's exciting, especially going undefeated two seasons in a row and playing with my best friends," said Powell, Broad Run's No. 3 hitter who plated the Spartans' first run on Saturday with a first inning, RBI fielder's choice that scored teammate Ashley Kramer. "It's a dream come true."
A year ago, Broad Run had defeated Tunstall in extra innings at the state semifinals behind the lights-out pitching of Broad Run pitching ace Caitlyn Delahaba. In Saturday's shutout win over the same Tunstall team for the 2008 championship, Delahaba, once again, dominated the game. The senior right hander, who had struck out 19 hitters in Friday's semifinals win over Salem , was pretty much just as dominating on Saturday against the Trojans as she allowed one hit (an infield single in the seventh) and fanned 14 with one walk.
"She's always pitched like that," said Broad Run junior catcher Haley Johnson, of batterymate Delahaba. "She has great speed and movement on the ball."
Delahaba, perhaps the best softball pitcher ever in Virginia High School League softball, increased her string of innings without allowing a run to 160.
<b>JUST AS WAS</b> the case in Friday's semifinals, the sun was out and the temperatures were in the mid 90's for Saturday's 1 p.m. finals game.
Broad Run dampened Tunstall's hopes early on by scoring two runs in the top half of the first inning to go ahead 2-0. Just like that, the Trojans, a member of Region IV and the Piedmont District, were trailing the Spartans and the nearly unhittable Delahaba.
Throughout much of the season, Broad Run has dis-heartened opponents by jumping out to first inning leads and never relinquishing them because of its solid defense and pitching stopper. The same occurred on Saturday as fans, players and probably even the coaches realized that the game's outcome was pretty much decided based on a couple of first inning runs. Afterall, it was not as if Tunstall was going to have a breakout inning against the state's best pitcher.
But the Spartans could not play with that mindset. Instead, they stayed focused and played solid softball the rest of the way, just as they have done all season long with Delahaba on the hill.
"That's always been our main thing – never to lose focus," said Johnson, of the Spartans' mindset for games and the season as a whole. "We're really close [as a team], so that helps our chemistry a lot."
Kramer, Broad Run's talented senior shortstop who has been starting rallies all season long from her leadoff spot in the batting order, opened up the two-run first inning by hammering a double to the center field fence. A sacrifice bunt by senior Michelle Clohan advanced Kramer to third. Then, Powell grounded out to first base to score Kramer for the 1-0 lead. The following batter, Johnson, sent a deep fly ball into center field for a run-scoring double to make it 2-0 Broad Run.
"It was good to get ahead early," said Johnson, of the first inning runs. "It made it easy to relax."
Delahaba allowed a two-out walk in the bottom of the first inning before ending the inning with a strikeout.
In the second, Broad Run scored another run on an RBI groundout off the bat of Kramer. Sophomore Anna Blessing, who had been hit by a pitch to start off the inning, scored on the play to make it 3-0 Spartans.
With a comfortable lead, Delahaba got on a roll, striking out 11 of the next 12 batters she would face over the next four innings.
In the sixth, Tunstall managed to hit the ball for groundball outs twice. In the Trojans' final at-bats in the bottom of the seventh, senior shortstop Sarah Smith came up with Tunstall's only hit of the game when she beat out a groundball to third base for the infield single to start the half inning.
Delahaba's no-hit bid was gone as a result, but no one on the Broad Run side seemed to care too much as the Spartans were only three outs away from another title.
Delahaba came back to get a strikeout, a pop up and the groundball out to first baseman Powell to end the game and the season.
During postgame ceremonies, the Broad Run players were each given championship medals and the Spartans, as a team, received a state championship trophy.
There was no doubt by anyone that Broad Run was one again the decisive champion of Virginia.
It was the final high school game for five Broad Run seniors – Delahaba, Powell, Kramer, Clohan and right fielder Kaitlyn Tiplady.
"I think we left a name for ourselves," said Powell, of her fellow 12th graders. "We can call ourselves the `Fab Five.' We've left a legacy at Broad Run."