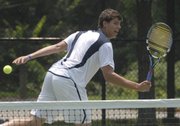 Just days after winning his third consecutive AAA Virginia state boys tennis singles title and fourth consecutive doubles title, Robinson senior Drew Courtney lists the Robinson boys tennis team's 2006 and the squad's title this year as his two favorite moments of his high school career.
"Winning the state title for the first time in school history, that was an awesome experience," said Courtney. "Winning the team title this year, I'll remember that the most. It was so close with so many ups and down. Emotionally, it was the craziest thing that I have been involved with."
As for his individual titles, they're nice, but the team's titles are special.
"High school tennis is all about the team. Sharing it with all my friends and family and teammates," he said. "I love winning individual titles, but there is nothing like a team title."
With the Rams' third consecutive state team title won a week earlier, however, last Saturday's tournament finals at Jefferson District Park were all about Courtney. The Rams' senior easily dispatched Cox's Ian Frazier, 6-2, 6-1, to win his third state singles crown on Saturday morning.
Courtney was not done, however, as the senior grabbed a quick shower and lunch before joining Stephen Hardy in the boys doubles final against Mills Godwin's Kyle Parker and Kevin Calhoun. In a hotly contested match with temperatures reaching the mid-90s, Courtney and Hardy took care of Parker and Calhoun to win the pair's second consecutive doubles title. It was Courtney's fourth consecutive doubles title as he teamed with Mike Smith in 2005 and 2006.
"It is definitely hard to know that it is over," said Courtney of his high school career. "It was an amazing experience."
Courtney ends his career with 10 state titles – three singles, three team and four doubles titles.
"I knew that the team could have success and if I worked hard, I could continue success, but to actually do it is two different things," he said.
Courtney, who will play tennis for the University of Virginia next year, will travel down to the Charlottesville campus over the summer to work out with some of his teammates.
"I'm not nervous at all," he said. "I am eager and excited to go down there and bring more success."