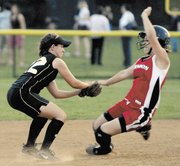 Herndon High girls' softball coach Bonnie O'Hearn probably could not conclude her 13 years at the helm of the Hornets in a better way than what she is experiencing.
The popular O'Hearn, who recently announced she will be stepping down from her duties as the team's coach at the conclusion of this breakthrough spring season, has led her Herndon squad to its first-ever trip to the state AAA playoffs.
The Hornets (17-9) were scheduled to play a quarterfinals round state playoff game at Hickory High (Chesapeake) on Tuesday of this week. A win there would advance Herndon to this Friday's semifinals, set to take place in Northern Virginia at Westfield High School.
"Its been incredible," said O'Hearn, of the fabulous season in which the Hornets put together a stellar regular season before reaching the championship games at both the Concorde District and Northern Region tournaments. "For me, it's like a dream come true."
When O'Hearn took over the Herndon softball team 13 years ago, she was hoping to quickly turn around a program that had had won only a handful of games over the previous few seasons. But success came slowly as the Hornets, under O'Hearn, struggled those initial few seasons. But Herndon, over time, got better and better. Last year, the Hornets reached the quarterfinals round of the 16-team regional playoffs. This season, Herndon did even better as it went all the way to the region championship game before losing to Westfield.
But reaching the region finals automatically qualified Herndon for the eight-team state tournament. It marks the first time the Hornets have ever made it to states.
"It's great knowing the program has turned around this much and that we went to the district and region championships and are going to states," said O'Hearn. "I had come [in the mid 1990s] hoping I could turn things around immediately. But it was a slow progression."
<b>PRIOR TO</b> coming to Herndon, O'Hearn was an assistant coach at Langley High School under former Saxons' coach Dean Ferrington. There, she was head coach of the Langley JV squad in both the 1990 and 1991 seasons.
Ironically, O'Hearn got a taste of her past during Herndon's region playoff run when her Hornets defeated Langley, 5-2, in the semifinals. The win over the Saxons, currently under coach Bob Morrow, prevented the Liberty District Langley squad from making states. Then at the region finals, Herndon lost to a Westfield team currently coached by Ferrington.
O'Hearn said her team's May 28 semifinals win over Langley last week was particularly gratifying because the Hornets had played poorly against the Saxons during a pre-season game earlier this spring. But in the playoff meeting at South County High School, the Hornets turned the tables.
"To beat Langley was huge because they've been a success story in the region forever," said O'Hearn.
In the win, Herndon received fine pitching from both starter Katie Briggs (four innings) and reliever Katie Rynex (three innings). Briggs struck out seven Langley batters, while Rynex had three K's.
"Each girl gave up one run and both pitched fantastic," said O'Hearn, of the two seniors.
The Hornets played a near flawless game in the win over Langley, but did not play as well in the region championship game where they lost to Westfield, 5-3, at Yorktown High School in Arlington. All five of the Bulldogs' runs were unearned in that title contest.
Herndon received a top-notch pitching effort from Rynex, who allowed only three this to Westfield batters. But it was not enough.
"We had said that we had to play perfect ball to win over the last few weeks," said O'Hearn. "We didn't do that against Westfield."
Three Herndon players were named to the All-Region team. Those players were: senior Stacy Fox, who blasted a three-run home run in the win over Langley, senior Marra Hvozdovic and Rynex.
O'Hearn said her team understands it lost to Westfield, in part, to spotty defense. But for the most part over the postseason, Herndon has played outstanding in the field.
"They are disappointed we lost, but understand why we lost," said O'Hearn. "We did things we can't do. When we play a flawless game like we did against Langley, we prove we're unbeatable."
This week, Herndon was looking to make its mark at the state tournament, beginning with its first round game against Eastern Region representative Hickory.
O'Hearn said friends and Herndon supporters have encouraged her to remain as head coach after this season. But she is set to have knee replacement surgery soon and is ready to step down for good.
"People say, `You can't make this your last [season],'" said O'Hearn. "I say, `Yes I can, we're going out on top.' It's heart-breaking to leave coaching, but wonderful to go out like this."