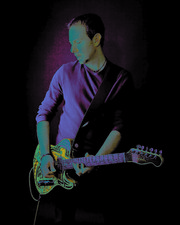 Billy Coulter is an award winning musician who performs regularly in the Metro area. He has a cd coming out on June 21. He will be performing at the Birchmere with Southside Johnny & The Asbury Jukes. For more on the performance, visit birchmere.com. For more on Billy Coulter visit www.billycoulter.com or www.myspace.com/billycoulterband.
<b>Introduce yourself or the band:
</b>I am Billy Coulter, a singer/songwriter with a Roots Rock band of the same name. The group has been together for about five years and in that short time we've been honored with several awards. Most recently, I received the 2007 Washington Area Music (WAMMIE) Award for Roots Rock Male Vocalist of Year. Several of my songs have been honored by both the Billboard and Mid-Atlantic Song Contests, including the latter's Gold Award for 2005 Rock Song of the Year.
As a singer/guitarist I perform regularly in the Metro area as either an acoustic act or with band members Tommy Derr on lead guitar and backing vocals, Chuck Dolan on bass and backing vocals, legendary DC drummer Doug Tull (Razz, Tommy Keene) and occasionally Brian Simms (Junkyard Saints), who performed all the keyboards on our new album. Our second CD, "DOSE" will be available on Confluence Records in a few weeks with a release party to follow on June 21 at McGinty's in Silver Spring.
<b>How did you get your start in music and how long have you been performing?
</b>I started playing music seriously when I was 18 and had some regional success in my college years (including winning a contest to perform live on TV) with my band The Inserts. I gave up performing my music almost 20 years ago and "got a real job." After a series of life-changing events around 2000, I started writing songs again and was fortunate to get the attention of and help from L.A. producer Steve Thoma (formerly with Fleetwood Mac and Glenn Frey) to record a demo CD, which later became the foundation for my first album.
<b>If applicable, how were your musicians chosen?
</b>By height, just kidding. There are some great players in this town but I really wanted musicians who liked playing this kind of material. In other words, that they'd listen to this music even if they weren't in the band.
<b>How long have you been performing?
</b>On and off for about 30 years.
<b>What is it that you love about performing?
</b>When the crowd gets into what I am playing there is a special connection and it makes me play harder. Then the musicians and the audience are on a common wavelength.
<b>What is your best memory when it comes to music?
</b>Watching The Beatles on Ed Sullivan when I was three–and-a-half years old. I knew very early on that rock 'n roll was what I wanted to do.
<b>Where is your favorite place to play, either publicly or personally?
</b>Of course, a venue like The Birchmere is an ideal place to play with a great sound system, large stage and an audience that comes to listen so I'm really looking forward to our show there. But I also like playing open-air festival shows, of which the band has many this summer. There's something so free about it. It's just a blast to fill up the great outdoors with rock 'n roll.
<b>Best compliment about a performance?
</b>After playing with Paul McCartney's former drummer, Denny Siewell, he said of my performance, "Damn, you're baaad." (I think he meant it in a good way.)
<b>What is your favorite piece of music and why?
</b>Beethoven's "Pathetique." Sounds just like it's name and is achingly beautiful. Or perhaps "Intro/Sweet Jane" by Lou Reed because it builds anticipation for the show.
<b>Who would you love to play with? Why?
</b>I'd love to play guitar with Sheryl Crow, Brandi Carlile, or perhaps David Bowie.
<b>Describe your sound:
</b>We play rootsy pop that's reminiscent of classic rock with refreshing, modern melodies and lyrics. Drawing on influences as varied as Bob Dylan and Johnny Cash to Mott the Hoople and Squeeze we've got an organic sound that's familiar but definitely new.
<b>Biggest musical influences:
</b>Ian Hunter, John Lennon and Bob Dylan, are the main inspiration for the music I write. They possess earnestness in their story telling that I find engaging and yet challenging for me to attain in my own works.
<b>Where have you toured?
</b>Just within the Mid-Atlantic States.
<b>Anything special about the upcoming show at The Birchmere?
</b>I am so happy to be playing this legendary venue. Especially on a Saturday night with such a fun band like Southside Johnny & The Asbury Jukes. The Birchmere is the place I go when I want to listen to music, really "hear" it and appreciate it without a lot of distractions.
<b>Future plans:
</b>I recently started a swingin' jump blues/rockabilly band called the Natty Beaux with some great local musicians and it a really fun band to hear and dance to. I figure I can play that kind of music well into my 80s.
<b>What would you recommend to someone starting out in the business?
</b>Practice, play as often in public as you can, and get your chops together so you can work with the best players around since that will also improve your abilities.
<b>Any parting thoughts?
</b> I recently wrote a story about my experience attending the Rock 'n Roll Fantasy Camp for the AARP Web site, complete with videos of me performing with members of Kiss and Bad Company. It can be found at http://www.aarp.org/rockcamp.