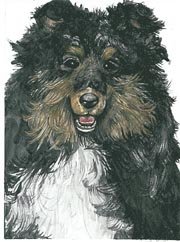 BJ, a dainty black Lab, is Bruce Hildebrand's constant companion. She is a graduate of Guiding Eyes for the Blind, which is based in Patterson, New York. Her life as a Guiding Eyes dog started with a Puppy Raiser. I met Bruce and BJ because I saw an article about Guiding Eyes for the Blind and I contacted them to find out more about their Puppy Raiser Program. According to Linda Damato who is the Guiding Eyes for the Blind Regional Marketing Manager there are 22 Puppy Raisers in our region and 30-40 pups in training at any one time. There are always more pups to raise than there are Puppy Raisers. Linda told me, "We have about 500 Puppy Raisers across all of the 40 regions located along the Eastern seaboard and without these amazing volunteers; we would not have guide dogs."
Back to Bruce and BJ. When we had a chance to sit and chat, Bruce told me that he gives a thorough thumbs up for the puppies and the Guiding Eyes they become. Bruce told me that the owners and the Puppy Raisers are a team. He called it "the love chain of Raisers to owners." His life is totally different with the aid of BJ. "It is safer for me, I can move faster with BJ who is very cautious in traffic", he told me. "It is la lot of work, with a lot of love. I don't take things for granted. It is cool to go breezing along and socially BJ can be an icebreaker who helps me chill and relax." I wish I had the space in my column to tell you all the great stories that Bruce told me. Like the time that he was leaving class in 1972. Pre-occupied by readers and papers, he heard a jangle behind him and realized that he had forgotten Elva, who was his first dog. Having these Guides in his life, the physical contact and the companionship have been precious. Bruce says that he has become a calmer person and that it is all about, "God, gratitude and joy with the mood going up and down the leash." Bruce and BJ told me to tell my gentle readers that being a Puppy Raiser is a wonderful gift to the raiser and to the recipient of the trained Guiding Eyes dog.
Paisley and Cassidy are two black Labs being raised by a Puppy Raiser, Tracy Di Fulgo who is Hotel Manager at the Omni Shoreham Hotel. On a typical day, Cassidy and Paisley, wearing their light blue training vests, head off to the hotel. They will spend some time in Tracy's office, go for walks with the bell staff, be taken around the hotel and maybe participate in a spouse program if there is a convention in the hotel. The Shoreham has totally embraced this program and supports and promotes Tracy's passion for the Puppy Raising Program. The hotel allows guests to bring in their own pets, charges a $50 fee per stay and then donates the fee to the Guiding Eyes for the Blind program. After being a Puppy Raiser for more than five years, Tracy has seen so many positives to being a part of this effort. "Can't imagine not doing this, she said, "This is a big part of my day".
When I met Tracy, Paisley and Cassidy my first question to Tracy was, "how can you raise a pup for a year and half and then be able to give it up? Tracy told me that when she raised her first puppy Marcie, it was difficult to see her go. "I went to the school to visit and saw Marcie, she came over and said "hi" and went off to play." Tracy told me that after seeing the dogs in action she realized that they have "such a sense of purpose" and "they are the happiest dogs". She said that Guiding Eyes for the Blind does understand the bond that grows between the Puppy Raiser and the puppy so they encourage visits to the school and even have a Web site for the Puppy Raisers to go to for tracking the dogs they raised. One of Tracy's dogs, Dharma is now part of the breeding colony.
Food and vet care are expensive so I asked Tracy about the cost to raise a puppy. She told me that because the program is a non-profit 501 (3) (C) organization that the majority of the expenses are covered, including vet care. Tracy said, "You provide the love." Raising a puppy does not take a lot of space and apartments are fine because many of these dogs will live in apartments once placed. I asked Tracy what this program has done for her. "It gives me the opportunity to give back to the community and it doesn't take much time."
After a year and a half the pups go to New York to be tested to see if they have what it takes to go into intensive training. Tracy said that about 40% actually make it and become Guiding Eyes dogs.
A Puppy Raiser provides a safe, healthy and loving home for a pup. A Raiser teaches the puppy basic obedience and house manners and socializes the puppy to a variety of environments. They share a common goal, "To provide greater independence to the blind by raising a puppy that will one day become someone's "guiding Eyes".
IF YOU ARE INTERESTED in becoming a Puppy Raiser go to the Guiding Eyes for the Blind Web site at www.guidingeyes.org or to www.volunteer.guidingeyes.org which will give you more information about the Guiding Eyes Puppy Raising Program. If you are interested in becoming involved, two new pieces of legislation have been passed and signed into law here in the Commonwealth that add something very special to the Virginians With Disabilities Act...HB214, introduced by Del Mark L. Cole and now the law, allows service dogs unencumbered access to public schools. That means that a student using a dog to help them live a more independent life can take their companion into the classroom with them. The second, HB853 was introduced by my own delegate, Adam Ebbin (D-49). This wonderful bill adds in training to the guide dogs, hearing dogs and service dogs permitted in listed public places.
Linda Damato sent me a quote from one of the youth raisers that she wanted to share with my readers. It is from Kathy, age 18, raising her third puppy, Chase. "I can't seem to express to people that I don't raise for the community service hours. I don't raise dogs to look good on my college application. I don't raise for the recognition. I raise to make a difference, I raise to educate, I raise because I love being a part of this amazing program and helping to shape these incredible dogs. Community service should be something you pour your heart into and enjoy so much that it may reflect in your volunteer work. My heart goes into each dog and I willingly part with them to better someone else's life. I hope to continue raising dogs after college and I hope that people realize the reward of helping others far outweighs the sacrifice of the sadness of letting go. To be able to give of myself is skill that will help me to be a contributing member of society and a caring human being."
What could I add to that? Thank you Linda, Bruce, BJ, Tracy, Paisley and Cassidy.
Keep your tail high and your feet dry -
Love Daisy Mae