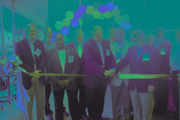 Animal Emergencies
If residents suspect a case of animal cruelty, need help for an injured animal, or see a lost or stray animal in the neighborhood, they can call the Animal Welfare League at 703-931-9241 for assistance.
2650 S. Arlington Mill Drive
www.awla.org
Making the Pup Legal
Dogs at least four to six months old must be licensed annually with the county. The cost is $10 for a one-year license and $25 for a three-year license.
Licenses are sold at the County Treasurer's Office, Suite 213, 2100 Clarendon Blvd. Call 703-228-3080.
www.arlingtonva.us/preas/pet.htm
Dog Etiquette
Having a polite pooch is a high priority for any dog owner, and several laws reinforce this. "Frequent and continuous" dog barking is prohibited. Legally, all dogs must be attached to their owners by a leash or a lead and kept under control. Running free is against the law. However, there are off-leash dog exercise areas in parks for animals trained for voice control. In addition, owners must clean up after their dogs in public places, such as streets and parks, according to the pooper-scooper law. Call the Animal Welfare League at 703-931-9241.
2650 S. Arlington Mill Drive
www.awla.org
Shirlington Puppy Parties
Join other dog owners on Saturdays from 9-11 a.m. at local dog exercise areas, often the fenced-off area inside Shirlington Dog Exercise Area, located along the bicycle path behind a storage facility along South Four Mile Run (between Shirlington Road and South Walter Reed Drive). Call or e-mail for weekly location announcements. Puppies between four months and one year old with proof of vaccinations are welcome. A volunteer will be on hand to answer questions. Call 703-578-0522 (mailbox 1), email arlingtondogs@hotmail.com or visit www.arlingtondogs.org.
Animal Welfare League
For any animal emergency, call the Animal Welfare League of Arlington, located at 2650 S. Arlington Mill Drive. Other services include shelter and adoption services, rabies vaccinations, clinics and pet care classes. Call 703-931-9241.
More like this story